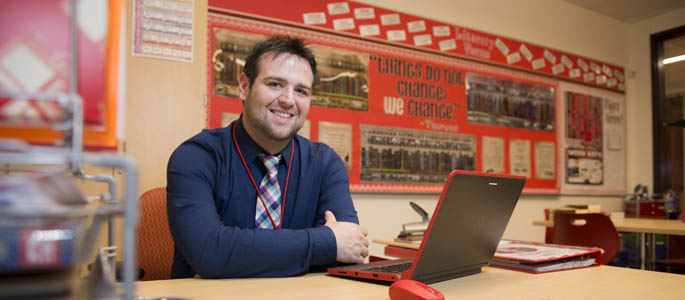 Be Marketable — and Ready to Meet the Needs of Today's Inclusive Schools
Point Park University's 36-credit master's degree in special education program leading to Pennsylvania certification is designed for educators who want to increase their marketability and prepare more fully to meet the challenges and needs of today's inclusive schools. 

---
Related Feature Story
Young adults with disabilities experience campus life at Point Park. Read the story.

At Point Park, we understand the needs of today's students and have tailored our graduate education programs to offer flexible delivery formats including on-campus, hybrid and fully online.
Choose Your Learning Style: Downtown Campus, Hybrid or Fully Online
Our master's degree in special education is conveniently offered in a variety of delivery formats, allowing students to customize their learning experience.
Choose from one of the following three delivery formats:
Downtown campus: All face-to-face classes at Point Park's campus in Downtown Pittsburgh


Hybrid: A combination of online and face-to-face classes at your choice of one of the following locations: Cranberry area, Southpointe area, Monroeville area or Point Park's campus in Downtown Pittsburgh


Fully online: An active and engaging online courseroom environment that includes assignments, materials, discussion threads, assessments and/or group activities done electronically
Pennsylvania Department of Education Requirements
The Pennsylvania Department of Education regulations now require that certification in special education be obtained as a dual certificate. That means that those individuals pursuing the Pre-K through grade eight special education certification will need to have elementary certification and those seeking the seventh through 12th grade special education certification will need to hold secondary certification.  
Program Outcomes
Point Park's program enables all certified teachers to earn a Master of Education degree, while pursuing one of the two special education certifications. The master's degree in special education program is designed to enhance the skills of all teachers and provide a new means for teachers to acquire additional credits needed to obtain level two certification.
Special Education Graduate Course Offerings
Some of the courses in the M.Ed. special education graduate program includes:
Autism Spectrum Disorders
Special Education Inclusive Practices
Instructional/Assistive Technology and Universal Design
Differentiated Instructional Practices
Student Practicum Experience
To learn more, view the M.A. in Special Education Grades PreK-8 and M.A. in Special Education Grades 7-12 degree requirements.
Faculty
Courses are taught by faculty who have extensive backgrounds in the field of special education as well as years of real-world experience as teachers, principals, superintendents and other education administrators. 
Tuition Information
For details on Point Park University tuition and fees for 2017-18, please visit our tuition and fees page.