Point Park student-athletes inducted into National College Athlete Honor Society
Dec. 2, 2011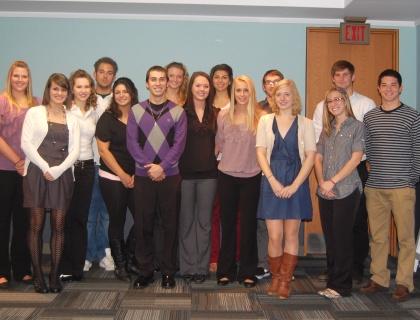 The Point Park student-athletes who were on hand for the Chi Alpha Sigma induction Dec. 2, 2011

PHOTO ALBUM: Point Park Athletics Facebook
VIDEO: Dr. McIntyre Speech (You Tube)   VIDEO:  Dr. Marnich's speech (You Tube)
PITTSBURGH -- Twenty-four Point Park University student-athletes were recognized Friday (Dec. 2) for induction into the Chi Alpha Sigma National College Athlete Honors Society Rho Chapter at Point Park University during an induction ceremony held in the Student Center.
It was the second year in a row that Point Park honored its student-athletes in this way as the University became the 18th school in Pennsylvania to be affiliated with the National College Athlete Honors Society last year.
Juniors and seniors with a grade-point average of 3.4 or higher are eligible for induction. Juniors received an induction pin and certificate. Seniors received an honors cord to be worn at the upcoming commencement ceremony May 5 at the Consol Energy Center. Seniors who were recognized for the first time also got the induction pin, the certificate  and the honors cord. Returning seniors received only the honors cord after getting the rest last year.
On hand to present the student-athletes for induction and also lead the oath of office was Dr. Karen McIntyre, the Senior Vice President for Academic and Student Affairs and Dean of Faculty. Dr. McIntyre remarked about the importance of the induction as did Faculty Athletics Representative Dr. Darlene Marnich. Dr. McIntyre and Dr. Marnich teamed up in presenting the awards to the student-athletes.
Offering opening remarks was Dean of Students Keith Paylo, who stated that the lessons learned by being a student-athlete are invaluable. Assistant Director of Athletics Michelle Coultas gave the opening and closing remarks.

VIDEO: Dr. Karen McIntyre gives the induction speech and oath of office.

VIDEO: Dr. Darlene Marnich gives remarks about the Chi Alpha Sigma induction.
For more information about the Chi Alpha Sigma National College Athlete Honor Society, visit this site:
NCAHS HOME PAGE
The Point Park student-athletes who were honored are listed below. Fifteen of the 24 were on hand Friday.
SENIORS
Alejandro Bernardini, Men's Golf
Leah Bubeck, Women's Cross Country
Joe DeWitt, Men's Cross Country
Lindsay Dill, Women's Cross Country
Zoe Hughes, Softball
Zeke O'Donnell, Men's Soccer
Mike Palmer, Baseball
Derek Peluso, Baseball
Anthony Russo*, Men's Soccer
Wido Sagerer, Men's Soccer
Rachel Stedina*, Volleyball
Mike Tullio*, Baseball
Liz Velez, Women's Soccer
Kristen Veseleny, Women's Basketball
* indicates first-year inductee
JUNIORS
Amanda Ardinger, Volleyball/Softball
Anna-Maria-Boshkova, Women's Basketball
Danielle Dorunda, Softball
Brittany Dunmire, Women's Basketball
Margaret Gillooly, Volleyball
Sara Guffey, Softball
Phil Malle, Men's Soccer
Lindsey Oberacker, Volleyball
Karly Shorts, Women's Soccer
Amanda Wenger, Volleyball