Point Park volleyball coach to run Pittsburgh Marathon blindfolded in support of VRRF
Updated -- April 23, 2013 at 12:00 p.m. ET

Visit 26-2blindfolded.com to donate to Coach Mike Bruno's Blindfolded Pittsburgh Marathon. Coach Bruno is pictured above with his daughter Cassie, the inspiration for the event. Photo courtesy of 26-2blindfolded.com.
DONATE: www.26-2blindfolded.com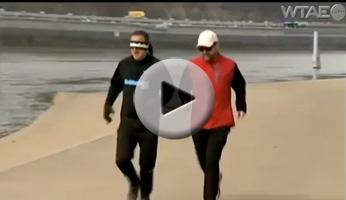 Click the image above for the WTAE-TV (ABC Pittsburgh) story that aired April 22, 2013.
Media Coverage of Mike Bruno's Blindfolded Pittsburgh Marathon (Note: Story picked up by Associated Press):

WTAE-TV -- Father to Run Pittsburgh Marathon blindfolded for daugther --April 22, 2013 by Janelle Hall
KDKA-TV -- Man running Pittsburgh Marathon blindfolded -- May 4, 2013 by Jory Rand
USA TODAY -- Father plans to run marathon blindfolded to honor daugther --April 23, 2013 by Chris Strauss
Huffington Post -- Mike Bruno to run Pgh. Marathon blindfolded to support child's visual impairment
Pittsburgh Post-Gazette -- Running for a cause -- April 16, 2013 by Craig Meyer
Pittsburgh Tribune-Review -- Point Park coach will take on Pgh. Marathon blindfolded -- May 1, 2013 by Bob Cohn
Pittsburgh Tribune-Review -- Bruno completes run to fight condition that has daugther blind -- May 6 by Bob Cohn
PITTSBURGH -- Point Park University volleyball head coach Mike Bruno will be running the Pittsburgh Marathon on May 5, 2013 just like the thousands of others who come out for the annual event. But coach Bruno will have a unique challenge and a worthy cause when he laces up his running shoes for the 26.2 mile course through Downtown Pittsburgh and the surrounding area.
Coach Bruno will be running the Pittsburgh Marathon blindfolded with the help of his sighted guide, Point Park University men's and women's cross country head coach and colleague, Jim Irvin. The duo has been training since late 2012 for their feat, which has as its goal to raise money and awareness for the Vision Research ROPARD Foundation, the leading organization for low vision and blindness related to premature birth.
The inspiration for the cause is Cassie Bruno, coach Bruno's 7-year old daughter who is legally blind as a result of her premature birth in November 2005. Cassie is one of the many children who suffer from retinopathy of prematurity, which caused her vision impairment. Retinopathy of prematurity is the main focus of the Vision Research ROPARD Foundation, the Michigan-based research firm which was formerly known as the Association for Retinopathy of Prematurity and Other Related Diseases (ROPARD).
"My hope is that by running the Pittsburgh Marathon blindfolded that I can not only gain a greater understanding of what my daughter Cassie goes through on a daily basis as a visually impaired person, but to also raise money and awareness so that maybe one day she and other children will be able to see," said Bruno, 44.
Coach Bruno's blindfolded Pittsburgh Marathon is soliciting donations at the cause's official Web site, www.26-2blindfolded.com. The goal is to raise $42,000 -- which is $1,000 for every kilometer in the 26.2 mile marathon -- to be donated 100 percent to the VRRF.
Donations can be made credit or debit card by clicking the donation link at the event's Web site. There are also sponsorship opportunities related to advertising on Coach Bruno's running attire. For more information on donations or sponsorship, contact coach Mike Bruno in the Point Park volleyball office at 412-392-3926 or mbruno@pointpark.edu
Coach Bruno has received media attention for his blindfolded marathon, and he will be featured on local Pittsburgh network affiliates beginning the week of April 15. Media inquiries about the event should be directed to coach Bruno at the contact info listed above.
More on Coach Mike Bruno's Blindfolded Pittsburgh Marathon -- 26-2blindfolded.com
For coach Bruno, the decision to run the Pittsburgh Marathon blindfolded was built on his desire to get back into running while also raising money and awareness for a cause that it is very close to his heart. A former all-conference cross country runner at Robert Morris University in the late 1980s, Bruno is an avid fitness enthusiast always looking for the next challenge.
Coach Bruno is also someone who is always looking for ways to raise money for research that may one day help his daughter Cassie be cured of blindness. He is the creator of Volley for Vision, the annual event of Point Park University volleyball that was started in 2008 to donate proceeds of one match each year to the Vision Research ROPARD Foundation. His blindfolded Pittsburgh Marathon is just another way to raise money and awareness for the worthy cause. 
Prior to his current undertaking, coach Bruno had not trained for or ran a marathon in 20 years. His sighted guide for the event, Point Park University cross country head coach Jim Irvin, is an avid runner who was happy to get back into marathon shape to help the cause.
"The biggest challenge of this -- outside of running the 26.2 miles blindfolded, obviously -- is to retrain your body to endure that distance, said Bruno. "It is harder to do as a 44-year old as opposed to a 24-year old, as I was the last time I ran a marathon."
It won't be the first time that coach Bruno will run an extended distance blindfolded in support of a cause. Back in 2010, he ran a 5K on the Montour Trail with colleague Jeroen Walstra, the Point Park University men's soccer head coach, guiding him. That event was mainly to raise awareness for blindness, but it did it did not have the organized effort and the months of planning that this year's blindfolded marathon has.
The first step this year was to get coach Jim Irvin on board as the sighted guide. A simple text between the coaches on Dec. 4, 2012 was all it took for Irvin to jump in with both feet. Then began the training and the development of the event's Web site and a full-fledged marketing campaign with advertising and sponsorship.
Since announcing their intentions near the end of 2012, coaches Bruno and Irvin have received many words of encouragement and praise for their undertaking. The events Facebook page, www.Facebook.com/26.2blindfolded, has received much praise, as have the personal Facebook accounts of the two coaches.
The training included a learning curve needed to fall in step between Coach Bruno and his sighted guide. As they will be on May 5, 2013, the day of the Pittsburgh Marathon, coaches Bruno and Irvin will be tethered together by a short rope. Coach Irvin will lead the way with coach Bruno falling along behind step by step. Coach Irvin will be tasked with constantly communicating to his partner the characteristics of the terrain below their feet and the course ahead.
"There was a learning curve at first," said Bruno. "But after the first half mile running, we found a groove. With the comfort becomes a trust. The trust that I have in him is a big comfort. I am very thankful to Jim for taking this very seriously to not only get himself in marathon shape, but to also be such a great guide who talks to me constantly when I am blindfolded."
www.26-2blindfolded.com