Sphon, Eistentrout receive Don Kelly Student-Athlete Leadership Award
April 28, 2015 at 8:30 p.m. ET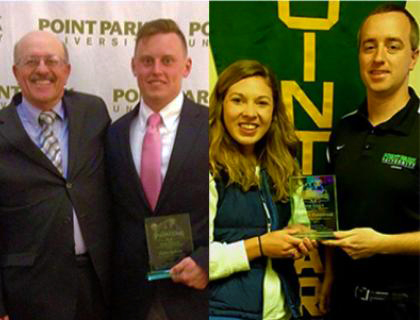 PITTSBURGH -- The inaugural recipients of the Don Kelly Student-Athlete Leadership Award at Point Park University are senior baseball player Nate Sphon and senior softball player Audrey Eisentrout.
The award is named for Pioneers baseball alum Don Kelly, who has gone on to a long career in Major League Baseball and is well-respected around the MLB as a consummate professional and class citizen of the game and community. Kelly, an NAIA First-Team All-American in 2001, is currently a member of the Miami Marlins, his eighth year in the big leagues.
Sphon and Eisentrout are the first recipients of the award, which will be given annually to a Point Park junior or senior student-athlete -- one male and one female -- who displays outstanding leadership and embodies the values, spirit and tradition of being a model student-athlete.
Deserving candidates are outstanding representatives of the school and the department in the classroom, in the community and in the sport they play. Nominees were reviewed by a panel of athletic department personnel.
The inaugural Don Kelly Student-Athlete Leadership Award recipients were recognized at the Outstanding Student Awards April 24 at the Fairmont Pittsburgh. Sphon received his award from Pioneers Director of Athletics Dan Swalga. Eisentrout was unable to attend due to the KIAC Softball Tournament but received her award in the athletic office from assistant athletic director Kevin Taylor.
Sphon is a senior pitcher on the Pioneers baseball team and a native of Greensburg, Pa. He is the top pitcher for the No. 24-ranked Pioneers (36-11). A four-year starter, Sphon is 6-3 with a 2.50 ERA this year. For his career, he is 21-12 with a 3.16 ERA and is one of only seven pitchers in the history of Pioneers baseball with 20 career wins.
Sphon has been a leader on Point Park pitching staff for his entire career, and that has come to the forefront as a senior captain. His leadership by example as the No. 1 starter paves the way for a staff that ranks 10th in the NAIA in team ERA at 2.94.
An excellent student, Sphon is a two-time NAIA Scholar-Athlete, a member of the Chi Alpha Sigma National College Athlete Honor Society Point Park Rho Chapter and leads the baseball team with a 3.85 grade-point average.
Eisentrout is a senior outfielder on the Point Park softball team and a native of Cumberland, Md. A four-year player for the Pioneers, Eisentrout started in right field this season and helped Point Park (29-16) to second place in the KIAC standings. She started a career-high 30 games as a senior and collected 13 RBIs.
Eisentrout has a 4.0 grade-point average in biological sciences. She is two-time NAIA Scholar-Athlete and a member of the Chi Alpa Sigma National College Athlete Honor Society Point Park Rho Chapter.
She is a past awardee of Red Cross/NAIA Collegiate Leadership Program in which she was one of 12 select student-athletes in the NAIA to be involved in the program in the summer of 2013. With the training, she implemented numerous blood drives on the Point Park campus during her college career.
About DON KELLY -- Point Park Baseball 1999-01 (Pioneer Athletic Hall of Fame 2010)
Don Kelly was an NAIA First-Team All-American shortstop for Point Park baseball from 1999-01. A 2010 inductee in the Pioneer Athletic Hall of Fame, Kelly is Point Park's all-time leading hitter with a career batting average of .413, a team record. He went on to a career in Major League Baseball, and the 2015 season will be his eighth in the major leagues.
Kelly is widely regarded in MLB as an upstanding citizen both on and off the field. He displays the purest sense of integrity, competition, sportsmanship, desire, dedication and leadership at the highest level of play – professional sports. These qualities are exhibited as a multi-year winner of the Major League Baseball Players Alumni Associations' "Heart & Hustle Award" as one of 30 yearly honorees in the MLB, a recognition that is presented annually to an active player who "demonstrates a passion for the game of baseball and best embodies the values, spirit and traditions of the game".
Kelly's community service includes: Participation in Tigers Dreams Come True, visiting and interacting with patients at Children's Hospital of Michigan and attending "Keeping Kids in the Game".
Kelly was drafted in the eighth round of the 2001 draft by Detroit. He made his MLB debut with his hometown Pirates on the Opening Day roster in 2007. He was with the Tigers from 2009-14, and the signed with the Miami Marlins for the 2015 season.
Follow the Pioneers on Twitter @PointParkSports