Point Park named an NAIA Champions of Character "Five-Star Institution"
Sept. 11, 2015 at 3:00 p.m. ET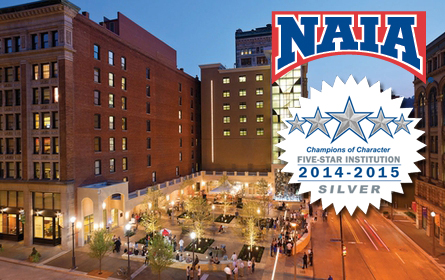 PITTSBURGH -- Point Park University was named a Champions of Character "Five-Star Institution" for the 2014-15 school year, the National Association of Intercollegiate Athletics announced on Thursday (Sept. 10). It is the seventh time that the Point Park athletic department received the honor, which is given to NAIA members institutions that score highly on the Champions of Character Scorecard.
Every NAIA institution has its progress in pursuing character education tracked and recognized annually for achievements in training, promotion and conduct in competition. The Champions of Character Scorecard measures commitment in five key areas and has a possible 100 points. There are three levels that are awarded: Gold (90-100 points), Silver (75-89 points) and Bronze levels (60-74).
For the 2014-15 school year, Point Park achieved Five-Star "Silver" status. There were a total of 169 schools in the country to earn Gold, Silver or Bronze status, and Point Park is one of 68 to achieve Silver. There were 29 Gold institutions and 72 Bronze institutions.
For the NAIA Champions of Character Scorecard, schools have their commitment judged in five areas: 1. Training to Staff, 2. Live 5 Student-Athlete Training Courses, 3. Live 5 Activities, 4. Outreach and 5. Community Service.
For a complete breakdown of the 2014-15 NAIA's Champions of Character Five-Star Institution awards, click the NAIA Release link above.
Point Park University is located in Downtown Pittsburgh and is a member of the NAIA and the Kentucky Intercollegiate Athletic Conference. Point Park claimed the 2014-15 KIAC Commissioner's All-Sports Cup as the top overall athletic department in the conference for the year.
Follow the Pioneers on Twitter @PointParkSports and on Facebook.com/PointParkAthletics