Point Park places second in 2013-14 KIAC Commissioner's Cup standings

June 16, 2014 at 2:00 p.m. ET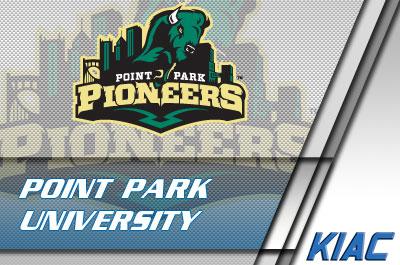 PITTSBURGH -- The Point Park University athletic department placed second in the final 2013-14 standings for the KIAC Commissioner's Cup, which is given annually to the best overall athletic department in the conference. The final standings for 2013-14 were released by the KIAC office on June 10, 2014.
It is the third year in a row that Pioneers athletics placed among the top two schools in its conference based on overall performance across all sports.
Point Park claimed the KIAC Commissioner's Cup in 2012-13, its first year in the conference. In its final year in the American Mideast Conference in 2011-12, Point Park placed second in the AMC All-Sports Trophy standings.
Point Park won a KIAC-best four conference championships in 2013-14, but it was not enough to retain the cup. Indiana University Southeast registered a score of 10.86 to claim the cup for the fifth time in the last six years. Point Park had a score of 10.09 followed by Asbury (Ky.) University in third place at 10.00.
Points in the KIAC Commissioner's Cup standings are based on the final regular season standings of each sport throughout the year. For cross country, golf and track and field, the KIAC championship meets are used to determine the standings.
There are 12 member schools in the KIAC, and thus 12 points are awarded for placing first in a sport. Second place receives 11 points, third place receives 10 points and so on. The total number of points scored by each school is divided by the number of sports that school sponsors.
Point Park placed first in four sports -- men's soccer, women's basketball, baseball and men's golf. The Pioneers not only won the regular season title in all of those sports, they also went on to win the KIAC Tournament in each of those sports.
Other high finishes for the Pioneers included second place in women's golf and softball and third place in women's cross country and women's soccer. The Pioneers were fifth in volleyball, seventh in men's cross country and eighth in men's basketball to round out their 11 sports.
Point Park totaled 111 points in 11 sports. KIAC Commissioner's Cup champion Indiana Southeast had 76 points in seven sports. Brescia (Ky.) University was the overall points leader with 141 over 15 sports and placed fourth in the final standings at 9.40.
Indiana Southeast edged Point Park by nine total points in the final standings. Nine more points across its 11 sports would have retained the cup for the Pioneers.
The final standings for the 2013-14 KIAC Commissioner's Cup are listed below. For complete information on this year's race, read the KIAC Release at the link at the top of this page.
2013-14 KIAC Commissioner's Cup -- Final Standings
| | |
| --- | --- |
| Indiana Southeast | 10.86 |
| POINT PARK | 10.09 |
| Asbury (Ky.) | 10.00 |
| Brescia (Ky.) | 9.40 |
| Berea (Ky.) | 8.93 |
| IU East | 8.80 |
| Cincinnati Christian | 7.43 |
| St. Louis COP | 6.89 |
| IU Kokomo | 6.50 |
| Carlow | 6.33 |
| Midway (Ky.) | 6.14 |
| Alice Lloyd (Ky.) | 5.56 |
Follow the Pioneers on Twitter @PointParkSports and Facebook.com/PointParkAthletics