Enter your team for "Point Park's Best Dance Crew" competition Feb. 11
Updated: Feb. 6, 2012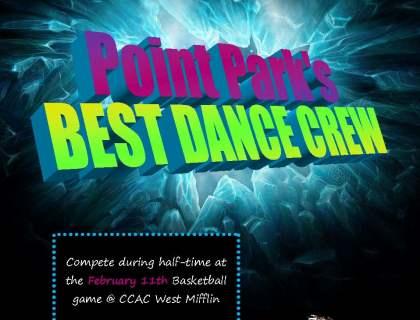 Does your dance crew have the goods to take home the title of "Point Park's Best Dance Crew"? The competition sponsored by Point Park athletics will have dance teams compete for bragging rights and prizes during the Pioneers' home basketball games on Saturday, Feb. 11 at CCAC-South Gym in West Mifflin, Pa. The winning team will receive a Pizza Party!
Act Fast! Entries are limited! Get your team of 2-5 dancers together and choreograph a routine of 90 seconds or less to use at the competition. Entries will be taken on a first-come, first-serve basis.
Fan Van shuttles will be available for the Feb. 11 basketball games, which provides a form of transportation to the game location of CCAC-South Gymnasium in West Mifflin, Pa.
HOW TO SIGN UP:
To register, download the "Official Rules & Entry Form" at the link above and email it to ktaylor@pointpark.edu (subject line "Point Park's Best Dance Crew"). For more information, send an info request to the email address. All team members must be Point Park students.
"Point Park's Best Dance Crew" is inspired by the MTV reality show "America's Best Dance Crew." The goal is to allow street dance crews to perform at basketball games as a way to have fun and express themselves in front of the student body. The title "Point Park's Best Dance Crew" is intended to inspire competition but in no way is an officially recognized title by the University or its departments related to dance.