Point Park's Dan Swalga named 2013-14 KIAC Athletic Director of the Year
June 6, 2014 at 10:45 a.m. ET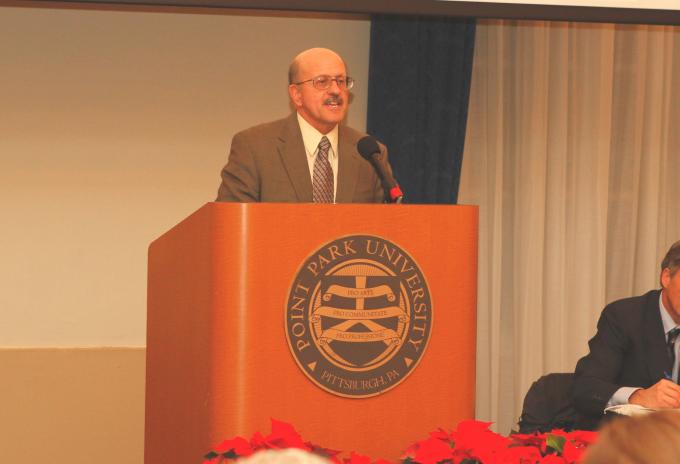 2013-14 KIAC Athletic Director of the Year Dan Swalga has been the Director of Athletics at Point Park for the last eight years. Photo by Evan Skowvron (2013).
PITTSBURGH -- Point Park University Director of Athletics Dan Swalga has been named the 2013-14 Kentucky Intercollegiate Athletic Conference Athletic Director of the Year, announced the KIAC and Commissioner Bill Melton on Friday (June 6, 2014).
Swalga was chosen after a vote of the 12 KIAC athletic directors. He is in his eighth year as Director of Athletics at Point Park, and he has been an athletic director for the last 22 years.
"During Point Park's two years as a member of the KIAC, Dan has been an active AD who cares about his student-athletes," KIAC Commissioner Bill Melton said in a release by the conference. "We are proud of Point Park's accomplishments, and we applaud Dan for this recognition."
This is the first time in his career that Swalga has been named a conference athletic director of the year. Since coming to Point Park for his first year of 2006-07, he has spearheaded the growth and success of Pioneers athletics, and the 2013-14 school year was another highlight in his tenure.
Point Park sports teams won a conference-high four championships during the 2013-14 year. The Pioneers won KIAC Tournament titles in men's soccer, women's basketball, baseball and men's golf, all four of which repeated for back-to-back conference titles.
The Pioneers also won KIAC regular-season champions in men's soccer and baseball and shared the regular-season title in women's basketball. The Pioneers finished in second place in softball and women's golf and in third place in women's soccer and women's cross country as other highlights.
Swalga's vast accomplishments at Point Park aren't limited to the 2013-14 year. Highlights during his time on campus include having the Pioneers accepted into their new conference, the KIAC, in January 2012, providing leadership on campus in introducing the Point Park Student Center as the first on-campus athletic facility in school history in 2011 and gaining new home athletic venues for Pioneers sports teams such as Highmark Stadium for soccer (2013) and Point Park Field at Green Tree Park for baseball (2011).
Swalga has led the introduction of four new varsity sports programs since his arrival. The Pioneers added men's and women's golf in 2009 and will add men's and women's track and field teams for the first time in school history for the upcoming 2014-15 school year. This has increased the sports programs from nine to 13 since his arrival.
Point Park sports teams to compete in the NAIA national tournament in Swalga's tenure include men's basketball, baseball, women's basketball, men's soccer, volleyball, men's and women's cross country and men's and women's golf. Previously to Swalga's arrival, men's basketball and baseball were the only sports to ever reach the NAIA national stage.
In Point Park's first year in the KIAC, the athletic department won the 2012-13 KIAC Commissioner's Cup as the best overall athletic department in the conference. It was the first time in school history that Point Park earned such as award from a conference.
The Pioneers' athletic teams have also reached new standards academically under Swalga's leadership. In the 2012-13 school year, nine of Point Park's 11 sports teams were named an "NAIA Scholar-Team" with a team GPA of 3.0 or higher. Point Park has had 150 NAIA Scholar Athletics (Junior or Senior, 3.5+ GPA) since 2006-07, an average of 19 per year.
Point Park has also been named an NAIA Champions of Character Institution for upholding the NAIA's Champions of Character initiatives of respect, responsibility, integrity, servant leadership and sportsmanship.
Swalga has been an athletic director for the last 22 years, and he has been in higher education for the last 35 years. Prior to coming to Point Park, he was the athletic director and assistant dean of students at Pitt-Greensburg for 14 years.
Prior to Pitt-Greensburg, Swalga was the head women's basketball coach and director of student activities at Robert Morris (Pa.) University for 13 years from 1979-92. He was the first-ever women's basketball coach for the Colonials and was NEC Coach of the Year in 1986 and 1989. He was inducted into the Robert Morris Hall of Fame in 2006.
Follow the Pioneers on Twitter @PointParkSports and on Facebook.com/PointParkAthletics