Point Park hires Parsley as head coach of Men's & Women's Track & Field teams
Jan. 16, 2014 at 2:00 p.m. ET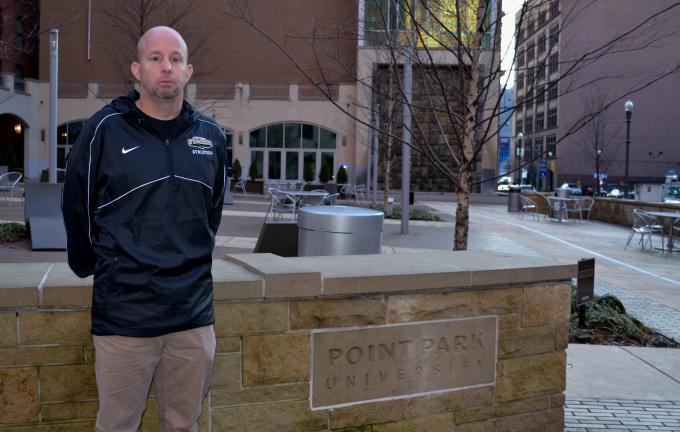 Point Park University men's and women's track and field coach Kelly Parsley poses Jan. 14, 2014 in the Village Park on campus in Downtown Pittsburgh.
PITTSBURGH -- The next step in the development of Point Park University's new track and field teams has arrived. The Pioneers' athletic department has announced that Kelly Parsley is the first coach of the school's men's and women's track and field teams.
Kelly, a native of Greensburg, Pa., has been a collegiate head coach for 12 years, most recently at NAIA Lindenwood University-Belleville in St. Louis, Mo. His first day on the job was Jan. 14, 2014, and he will begin immediately to build the direction of the Point Park men's and women's track and field teams, which will begin competition for first time in the 2014-15 school year.
"We are excited to have Kelly Parsley on board as track and field head coach," said Point Park Director of Athletics Dan Swalga. "He brings a wealth of knowledge and experience with 12 years as a college head coach.
"He is familiar with Western Pennsylvania, and he has recruited nationally at other schools. He also has experience starting a program, which is important. Given all of that, he's a great addition to our athletic department, and we hope to have a competitive track and field team in 2014-15, even though it will be the first year competing."
"I want to thank Dan (Swalga) for giving me this opportunity," said Parsley. "What he has done for me is more than offering me a job. He has changed my life. Allowing me to relocate to the city I love, and coach at the collegiate level is a dream come true, and for that I thank him. I am thankful to the search committee for seeing my vision of this program and trusting me to complete that vision and believing that I can do it. I wont let them down."
Parsley's coaching resume has covered various levels of athletics including NAIA, NCAA Division II, NCAA Division III and high school. He is no stranger to starting a brand-new athletic program, which he did at both Lindenwood-Belleville (Mo.) and Goldey Beacom (Del.) College.
Parsley started his head-coaching career at then-NAIA Goldey Beacom College in Wilmington, Del., where he was the head cross country coach from 2000 to 2006. He was the first coach in program history and started the men's and women's cross country teams there.
He led the cross country program to its greatest success and was named Coach of the Year in the Central Atlantic Collegiate Conference two times at Goldey Beacom.
In the five years under Parsley, Goldey Beacom cross country won the CACC conference championship two times, was runner-up two times and placed third the other time. Parsley coached 27 all-conference runners at Goldey Beacom, and the program won the team sportsmanship award in the CACC.
Goldey Beacom was NAIA the first two years that Parsley coach there, and they were NCAA Division II his final two years.
In 2006, Parsley became the cross country head coach at Lake Forest College (Ill.), an NCAA Division III school, in Lake Forest, Ill., just outside of Chicago. He spent four years there, and left his mark on the program.
Parsley's women's cross country runners at Lake Forest registered the top 25 fastest times in school history, and all 25 of those still stand to this day. In men's cross country, runners who competed under Parsley established 10 of the top 25 fastest times in school history, and all of those still hold in the record books.
The Lake Forest cross country teams had their highest placements ever at the Midwest Conference meet under Parsley. The women finished third in 2006, and the men finished fifth in 2008, which are still program-highs at the school.
Parsley was the Midwest Conference Coach of the Year in 2006, his first year at Lake Forest. A big part of that was having the women finish just a few points out of second place that season at the MWC meet. Parsley tutored seven all-conference runners at Lake Forest, and he coached 30 academic all-conference performers in his four years.
Parsley then moved back to his home area of Western Pennsylvania from 2010-11, and during that time, he coached cross country at Vincentian Academy, a private high school north of Pittsburgh.
At Vincentian, he was an assistant coach in 2010 and the head coach in 2011. Vincentian had not had much success in the past but finished runner-up in the WPIAL boys' meet in 2010, his first year on staff. Vincentian had two boys' state qualifiers that season, and the success continued in 2011 when the school earned six medals at the WPIAL track and field meet.
Parsley returned to the collegiate level for the 2012-13 year when he was the head coach of both cross country and track and field at NCAA Division III Webster University in St. Louis, Mo.
At Webster, Parsley's cross country runners set the top 10 fastest times in school history for both men's and women's cross country, which are still in place. The cross country teams also had six all-conference performers in his year there.
In track and field, Parsley's Webster student-athletes broke a combined 31 school records in indoor and outdoor track and field. The program established a school record in every track and field event that it competed in that year.
Parsley was hired in July 2013 as the track and field head coach at NAIA Lindenwood-Belleville in St. Louis, Mo. He was tasked with starting the programs at the school. The opportunity at Point Park attracted him to return to his home area while at the same time continuing his passion for coach college athletics.
Parsley competed in track and field at the NCAA Division II level at California (Pa.) University of Pennsylvania from 1996-98. He is a graduate of Greensburg Salem High School.
Parsley took the time to answer some questions about his hiring at Point Park:
1. What attracted you to Point Park University?
Parsley: "First, the growth of the University. Point Park has revitalized this portion of the city. I want to play a part in the growth of the University. Second, Pittsburgh was my home, I grew up in Greensburg, I have always wanted to coach at the university level in my hometown. Third, I am a competitive person, and I believe that Point Park has everything to offer the student-athlete, which will allow me to recruit some of the region's top talents, which will enable me to develop a KIAC conference-championship caliber team."
2. What is your vision or Point Park Track & Field?
Parsley: "I believe, even in the first year of competition, we will be among the conference's best teams. I also believe that I will be able to recruit students that will potentially qualify for the national meet."
3. Why should someone come to Point Park to participate in Track & Field?
Parsley: "One of the reasons I hope would be because of me. It is an exciting time at Point Park, we are in a new conference, we are adding a new sports program, and the school is committed to its students and its student-athletes. When students come to Point Park, they will have opportunities athletically to be part of establishing new traditions, records and history."
Related Article:
(Nov. 8, 2013) -- Point Park athletics to compete in Track & Field starting in 2014-15
Interested in becoming a part of Point Park Track & Field?
Get in touch with head coach Kelly Parsley at 412-392-3834 or kparsley@pointpark.edu or complete the
Prospective Athlete Questionnaire online.