Home of Point Park University Men's & Women's Basketball!
CCAC-South Gymnasium is located in West Mifflin, Pa., on the campus of the Community College of Allegheny County South Campus. It has been the home of Point Park University's men's and women's basketball teams since the 1996-97 season.
The gymnasium was completed prior to the 1995-96 school year, and it has a capacity of 1,000. It is widely considered one of the best small college gymnasiums in Western Pennsylvania, and it is routinely used as a venue for high school basketball events in the Pittsburgh area.
Below is a video highlight from one of Point Park's games at CCAC-South in 2010-2011 that illustrates the great atompshere created in the gymnasium: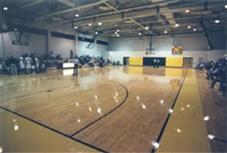 Address:
CCAC South Gymnasium
1750 Clairton Road
West Mifflin, Pa. 15122
Driving Directions
North
Take I-79 South to 279 South toward Pittsburgh. Take 279 South to 579 South toward the Veteran's Bridge. Follow the signs to the Liberty Tunnels. Cross the bridge, proceed through the Liberty Tunnels. When exiting the tunnel, bear right onto Route 51 South (Uniontown). Continue approximately 10 miles on Route 51. You will pass the entrance to Century III Mall. At Century III Dodge/Bowser Pontiac there is a traffic signal. Turn left at signal onto Lewis Run Road. At the next traffic light, turn right and you will see the entrance to CCAC-South.
South and East
Take I-76 to I-70 West. I-70 West to Route 51 North. Continue on Route 51 until traffic light where Century III Dodge/Bowser Pontiac is on the right. Turn right at the signal onto Lewis Run Road. At the next traffic light, turn right and you will see the entrance to CCAC-South.
West
Go West on I-376. Take the Swissvale exit off of I-376 and make a left onto South Braddock Avenue. Pass Edgewood Town Center and continue on Braddock Avenue and cross the river on the Rankin Bridge. At the end of the bridge, make a left onto Route 837 past Kennywood through Duquesne and Dravosburg along the river bank. At the traffic light, turn up Coal Valley Road where you will see an Amoco gas station on the left. At the top of Coal Valley Road turn right onto Route 885. CCAC-South will be ahead approximately one mile to your right.