Pioneer Athletic Hall of Fame Class of 2011: Ellis, Halsel, Lang, Smith, Theodorsson
Updated: Oct. 9, 2011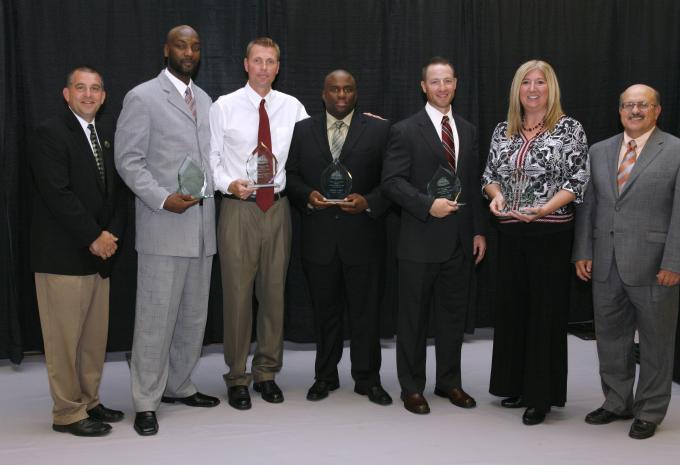 Pictured from the 2011 Pioneer Athletic Hall of Fame Induction Ceremony on Oct. 9, 2011: (L to R) Dean of Students Keith Paylo, DeVaughn Halsel, Oli Theodorsson, Michael D. Smith, Ryan Ellis, Lara Lang and Director of Athletics Dan Swalga. Photo by Tom Bell.
PITTSBURGH -- Point Park University's Pioneer Athletic Hall of Fame inducted five new members Sunday in its 2011 induction ceremony held in the Student Center on campus.
Inducted in the 2011 class were Ryan Ellis (Baseball & Men's Soccer, 1997-00), DeVaughn Halsel (Men's Basketball, 1996-98), Lara Lang (Women's Basketball, 1990-94), Michael D. Smith (Baseball, 1997-00) and Oli Theodorsson (Men's Soccer & Basketball, 1995-97).
VIDEO: The Hall of Fame Induction Speeches and Presentations are on the Point Park Athletics YouTube Channel. Scroll through the video clips on the right side of the page: http://tinyurl.com/3h96v3g
RYAN ELLIS (Baseball & Men's Soccer, 1997-00)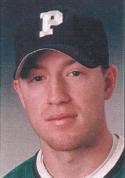 A native of Munhall, Pa., and a graduate of Steel Valley High School, Ryan Ellis holds the Point Park record for single-season batting average at .477 in 1999. Ellis, an infielder, ranks fourth in school history with a .405 career average, and he is one of only four players in school history to hit over .400 for his career. A two-time NAIA Honorable Mention All-American (1998 and 199), Ellis' ranking in Point Park's career records include being third in hits (207), third in RBIs (169), second in home runs (27) and second in triples (21). He led Point Park to its 10th appearance in the NAIA World Series in 1998.
Drafted in the 28th round of the 2000 MLB draft by the Montreal Expos, Ellis played five years of minor league baseball, first with Vermont in the New York Penn League and then with Washington of  the independent Frontier League.
Ellis just completed his first year as manager of the Savannah Sand Gnats, the Class A affiliate of the New York Mets, in the 2011. Ellis was named the Manager of the Year in the South Atlantic League and also managed in the league's mid-season All-Star Game after leading his team to the South Division title. It was his first year as a manager in professional baseball. Prior to becoming the manager of the Sand Gnats, Ellis had been a minor league assistant coach since 2003, and he has been coaching in the NY Mets' organization since 2006.
Ellis was also a three-year member of the Point Park men's soccer team (1996-98), and he was an NAIA All-Northeast Region Honorable Mention defender in 1997. He was a very key defender for the Pioneers in what was the most successful few years of the program.
DEVAUGHN HALSEL (Men's Basketball, 1996-98)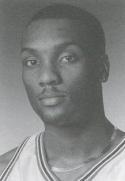 A native of Pittsburgh, Pa., and a graduate of Brasher High School, DeVaughn Halsel was a first-team NAIA All-American in 1996-97 when he led the Pioneers to the NAIA Division I Final Four. The 6-7, 215-pound forward, averaged 21.9 points and 13.4 rebounds per game during his two-year career at Point Park. He scored 984 points and grabbed 604 rebounds in just 45 career games. His career scoring average ranks fifth in school history, and he is Point Park's leader in career rebounding average.
Halsel was perhaps the best player in the nation in 1996-97. He led the country with 14.0 rebounds per game to go along with 21.6 points per game. He shot 54 percent from the floor and 82 percent from the foul line that year on his way to being named Player of the Year in the Keystone-Empire Collegiate Conference. Halsel carried Point Park to the NAIA Final Four by averaging 23.0 points and 12.0 rebounds and making 91 percent (30 of 33) of his free throws in the tournament.
Halsel, who had transferred from Southeastern Community College, went on to play professional basketball for 10 years. He spent eight years as a pro in Europe before returning home for a two-year stint with the CBA's Pittsburgh Xpolsion. Halsel was a member of the Xplosion's inaugural season of 2005-06 and was an assistant coach when he retired as a player.
LARA LANG (Women's Basketball, 1990-94)

A native of McDonald, Pa., and a graduate of Fort Cherry High School, Lara Lang scored 1,681 points and totaled 874 rebounds as a four-year starter. A 5-10 power forward, Lang ranks third in school history in scoring and fifth in rebounds. The only Point Park players to score more points than Lang are Hall of Famers Melissa Charles (HOF Class of 2008) and Dorethia Jackson (HOF Class of 2000), the latter of which was Lang's teammate.
Lang holds the school record with 119 games played, and she ranks third with a field-goal percentage of 44.3. Her career averages include 13.9 points and 7.3 rebounds per game. Lang scored a career-high 16.5 points per game as a junior.
During Lang's final two years, Point Park was a combined 34-20 and made the playoffs both seasons. The Pioneers were 19-12 and reached the finals of the Keystone-Empire Collegiate Conference in Lang's senior season of 1993-94. That was the last winning season for the program until 2009-10, a span of 16 years.
MIKE D. SMITH (Baseball, 1997-00)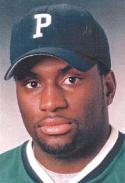 A native of Thornhill, Ontario, Mike D. Smith is Point Park's all-time leader in home runs, hits and RBIs. Smith hit a record 41 home runs – 14 more than anyone else in the rich history of Point Park baseball – and his record 197 RBIs are 30 more than the closest alum. His 216 hits rank best in school history, and he is also atop the all-time list for at-bats (581), runs (209) and total bases (422).
Although he was a prolific power hitter with a career slugging percentage of .688, Smith also hit for a high average. A .377 career hitter, Smith hit .400 with 11 homers and 69 RBIs to lead Point Park to the NAIA World Series in 1998. The 69 RBIs that year are the second most in a single season.
In addition to being Point Park's career home run leader with 41, Smith is tied for the record in single-season homers with the 13 he hit in 1999. He also hit 11 home runs in 1998 and 12 home runs in 2000. He slugged an impressive .822 in 1999 and .796 in 2000.
OLI THEODORSSON (Men's Soccer & Men's Basketball, 1995-97)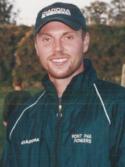 A native of Iceland, Oli Theodorsson was a standout player in men's soccer and men's basketball. An outstanding athlete, Theordorsson was an NAIA All-Northeast Region soccer player and also an important starter on Point Park's NAIA Final Four men's basketball team in 1996-97.
Theordorsson spent two years at Point Park after transferring from Alfred State JC. As a men's soccer forward in 1995, he scored seven goals. Despite that offensive talent, he made a position change to defense as a senior in 1996. That unselfish approach helped the Pioneers to their first winning record ever at 9-6 and also their first playoff berth. Theodorsson was an NAIA All-Northeast Region defender that year as a defensive center back.
For his career, Theodorsson totaled 26 points, nine goals and eight assists and was a big part of what was the most successful period of men's soccer at Point Park. Theodorsson went on to serve as Point Park men's soccer head coach from 1998-2001, and his 23 career wins rank second all-time at the school.
In men's basketball, Theodorsson was a two-year starter who was known as one of the best defensive players in the KECC. A 6-5, 190-pound forward, Theordorsson was assigned the task of defending the opposing team's top offensive threat, a key factor in Point Park's Final Four run of 1996-97.  For his career, he averaged 7.5 points per game, shot 49 percent from the field, 77 percent from the foul line and 42 percent from 3-point range. He scored 372 points in two years.