Point Park University Pioneer Athletic Hall of Fame Inducts Four in Class of 2012
Sept. 29, 2012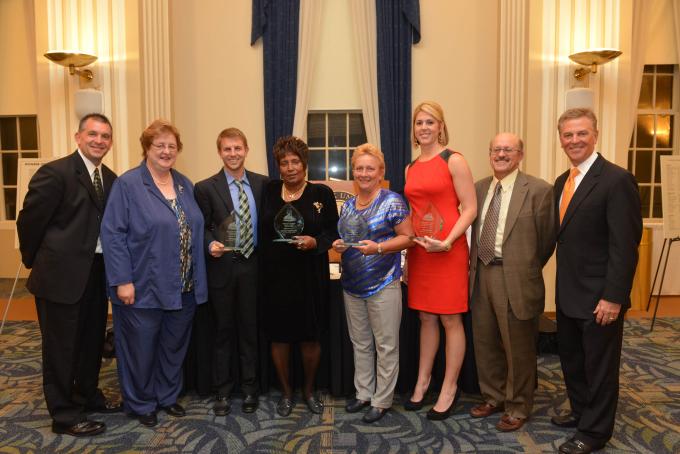 Pictured at the 2012 Pioneer Athletic Hall of Fame Induction Ceremony (L to R): Dean of Students Keith Paylo, Sr. VP of Academic & Student Affairs and Dean of Faculty Dr. Karen McIntyre, Inductees Jesse Bender, Ann Frances (accepting on behalf of Sonny Lewis), Debbie Zanolli, Lynn Newson, Director of Athletics Dan Swalga and Master of Ceremoies Fred McLeod (Point Park '74). Photo by Jim Judkis.

PITTSBURGH -- Point Park University's Pioneer Athletic Hall of Fame inducted four honorees for the Class of 2012 at the Induction Ceremony held Sept. 29, 2012 in Lawrence Hall. This year's inductees are Jesse Bender (Men's Cross Country, 2002-06), Nathan "Sonny" Lewis (Men's Basketball, 1978-80), Lynn Newson (Women's Basketball, 2001-05) and Debbie Zanolli (Women's Basketball, 1979-83).
The Induction Ceremony included acceptance speeches by each of the honorees, and Sonny Lewis' induction was accepted posthumously on his behalf by his sister Ann Frances. Each inductee was introduced by a presenter who spoke of their Hall of Fame credentials.
Cross country head coach Jim Irvin presented Jesse Bender. Former men's basketball head coach Jerry Conboy presented Sonny Lewis. Lynn Newson and Debbie Zanolli were presented by former women's basketball head coaches Ed Meena and Jim McKinnon, respectively.
The ceremony included opening remarks from Director of Athletics Dan Swalga, Dean of Students Keith Paylo and Senior Vice President of Academic & Student Affairs and Dean of Faculty Dr. Karen McIntyre. The Induction Ceremony was presided over by Master of Ceremonies Fred McLeod, a Point Park broadcasting graduate in 1974 and former star baseball pitcher for the Pioneers who is now the voice of the NBA's Cleveland Cavaliers.
The evening concluded with a visit to the newly renovated and relocated Pioneer Athletic Hall of Fame display area on the second floor of the Student Center. The display area was formerly in Thayer Hall, but was relocated to the building that used to be the Downtown YMCA in September 2012.
For more information about the Pioneer Athletic Hall of Fame or to make a nomination, visit the Hall of Fame homepage at www.pointpark.edu/athletics/halloffame. The Hall of Fame is accepting nominations for the Class of 2013 with a nomination deadline of Dec. 31, 2012. The 2013 Induction Ceremony will be held in late September or early October of 2013 with a specific date TBA.
Below are the biographies for the Pioneer Athletic Hall of Fame Class of 2013:
Jesse Bender (Men's Cross Country, 2002-06)

Jesse Bender was a two-time national qualifier for the NAIA Men's Cross Country National Championship and a two-time all-conference performer for the men's cross country team from 2002-06. Also a strong student, he was a three-time NAIA Scholar-Athlete majoring in theater.
Bender had some of the best distance-running ability that Point park had ever seen to that date or since. He was regularly running the 8K (5-mile) races in the 26-minute range his last two years. He had broken into the 27-minute range as a sophomore.
Bender's two qualifications for the NAIA national meet were by virtue of finishing high enough as an individual at the American Mideast Conference Meet. He broke through to the national stage with an 8K-time of 27:28 in the 2004 AMC Meet. He followed that up with a then-personal record time of 26:58 at the NAIA meet. His junior year of 2005 featured a time of 26:54 at the AMC Meet to qualify for nationals. There, he raced to a career-best time of 26:20. Although he narrowly missed out NAIAs as a senior, Bender set a standard for Point Park cross country that allowed the program to progress to its current status.
Nathan "Sonny" Lewis (Men's Basketball, 1978-80)
Nathan "Sonny" Lewis was one of the most talented guards ever to play for Point Park and ever to come out of the City of Pittsburgh. After an all-everything high school career at Schenley, he capped off his college career with two outstanding season at Point Park from 1978-80. He had started his career at Pitt.
Lewis needed just two years at Point Park to surpass the 1,000-point milestone, and he finished his Pioneers' career with an impressive 1,023 points in 56 games. Of Point Park's nineteen 1,000-point scorers, Lewis was the sixth-fastest to reach the milestone with an 18.3 ppg average. He finished his career sixth on the school's all-time points list.
A 6-3 guard, Lewis was a high-flying player who electrified the crowd. In addition to his 18.3 ppg career scoring average, he also average 6.0 rebounds, 3.3 assists and 2.6 steals per game and shot 53% fromt he field. His best season of 1979-80 included 22.3 ppg, 6.1 rpg, 4.4 apg and 56% shooting accuracy. For that, he earned NAIA Second Team All-American honors. He is one of eight Point Park players to be first or second team All-American.
In his first year at Point Park, Lewis helped the Pioneers to their first-ever NAIA national tournament appearance with a 26-5 record in 1978-79. The Pioneers made the NAIA District 18 Playoffs both of Lewis' years, but they fell short of the 1979-80 national tourney despite 28 points from Lewis in a district-playoff loss.
Lewis was a very highly touted player out of Schenley as he led the Spartans to two City Championships and the state title in 1975. He played in the Dapper Dan Classic in Pittsburgh and Cleveland Roundball Classic, and he gained plenty of attention for winning MVP of both events. He was All-City, All-State and All-American on the high school level.
Lewis died in 1981 and will be inducted posthumously.
Lynn Newson (Women's Basketball, 2001-05)
Lynn Newson, a 5-foot-10 forward from Girard, Pa., is one of the most productive players in the history of Point Park women's basketball. She is the Pioneers' fifth-leading scorer (1,438 career points) and sixth-leading rebounder (866 career rebounds). Of the select few players ahead of her on those all-time lists, three scorers and three rebounders are past Pioneer Athletic Hall of Fame inductees.
Newson led the Pioneers in scoring and rebounding all four years as a four-year starter from 2001-05. Her best season came as a senior when she averaged 17.2 ppg and 11.3 rpg as an All-American Mideast Conference First Team selection. She led the conference in rebounding that year. The oustanding senior season included 45% shooting from the field and 35% shooting from three-point range.

Newson earned all-conference honors every year with a spot on the All-AMC Second Team as a sophomore and junior and honorable mention honors as a freshman. Newson had very good averages of 13.7 ppg and 7.8 rpg for her career. Besides points and rebounds, she also ranks highly on the Point Park career charts with 185 steals (11th), 66 blocks (6th), 105 games (7th) and 69 3-point field goals (13th).
Debbie Zanolli (Women's Basketball, 1979-83)
Debbie Zanolli was the first great player for Point Park women's basketball. Her freshman season of 1979-80 was just the second year of women's basketball at the school, and the 5-foot-2 guard set the standard for the early days of the program.
Zanolli, who came to Point Park after a strong career at Carrick High School, was the Pioneers' first 1,000-point scorer. Her 1,375 career points still rank seventh in school history. Zanolli's scoring total stayed as high as third on the Point Park charts until the mid-1990s. Her impressive point total came in just 83 career games, and her career scoring average of 16.6 ppg ranks sixth in school history.
A tremendously quick guard who led Point Park's fast-paced style of play, Zanolli was a fearless and talented driver of the basketball despite her size. She ranks 11th in school history with 245 career assists and fifth with 225 career steals. Perhaps her best individual season came as a junior when she averaged 19.6 ppg.
During Zanolli's years at Point Park, the newly formed program posted a competitive, near-.500 record every year and got the sport off the ground for the Pioneers. That set the stage for teams that competed for the NAIA District 18 playoffs in subsequent years.