Pioneer Athletic Hall of Fame Class of 2013 announced -- Emanuele, Favero, Neal, Whipple
June 21, 2013 at 2:00 p.m. ET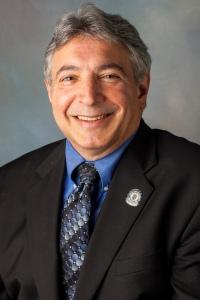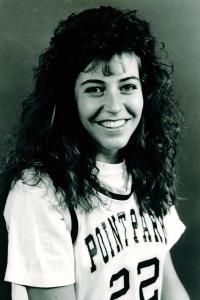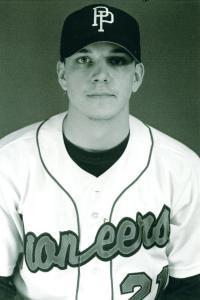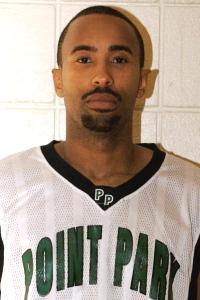 Pioneer Athletic HOF Class of 2013 (L to R): Joe Emanuele, Alisa Favero-Lucarelli, Bryan Neal and Chivas Whipple    
Register Online -- Pioneer Athletic Hall of Fame Induction Ceremony. Tickets $20
All attendees to the Pioneer Athletic Hall of Fame Induction Ceremony must register online. Tickets are $20 per person. Register at the Hall of Fame home page. The induction ceremony will be held Sat., Sept. 28, 2013 at Lawrence Hall. Reception at 5 p.m., Dinner at 6 p.m.
PITTSBURGH -- The Point Park University athletic department and the Pioneer Athletic Hall of Fame committee is proud to announce that there will be four inductees in the Pioneer Athletic Hall of Fame Class of 2013. This year's inductees are Joe Emanuele (Baseball, 1971-72), Alisa Favero-Lucarelli (Women's Basketball, 1988-93), Bryan Neal (Baseball, 1994-97) and Chivas Whipple (Men's Basketball, 2005-08).
This year's four inductees will be officially inducted at the 2013 Pioneer Athletic Hall of Fame Induction Ceremony on Saturday, September 28, 2013 at the Lawrence Hall Ballroom on the Point Park campus. There will be a reception at 5 p.m. and a dinner to follow at 6 p.m. Cost is $20 per person. To register, visit the Hall of Fame homepage at www.pointpark.edu/athletics/halloffame and click the registration link.
With the addition of this year's inductees, there will be 49 individuals and one team enshrined in the Hall of Fame. The Hall of Fame was initiated in 1973 and then reborn in 2000 with its goal to recognize the accomplishments of student-athletes, coaches and administrators who have made outstanding contributions to the school's athletic department and teams.
Pioneer Athletic Hall of Fame members are enshrined in the on-campus display area located on the second floor of the Student Center. A complete list of Hall of Fame members can also be found on the Hall of Fame web site.
The following are biographical sketches of the Pioneer Athletic Hall of Fame Class of 2013:
JOE EMANUELE -- Baseball, 1971-73

Joe Emanuele was one of the great players from the early days of Point Park baseball. The Pittsburgh, Pa., native and Central Catholic graduate was an infielder for the Pioneers from 1971-73. His career batting average of .348 over two years ranked eighth in school history at the time of his graduation, and he led the 1971 team with a .403 average and six triples. Emanuele played for coach Frank Gustine, and the Pioneers were a combined 31-12 in his time as a player.
Emanuele was a part of the 1971 team that reached the NAIA District 18 finals and finished runner-up. It was one of the first tastes of success for a Point Park baseball program that was in just its fourth year of existence after being established in 1968. Emaunele was an NAIA All-District 18 selection both years -- once at second base and once at third base.
Emanuele continued his involvement in baseball after his time at Point Park. He was a math teacher at Central Catholic High School for more than 40 years and was also the varsity baseball coach at his alma mater. His long and distinguished career as coach included taking the 1979 Central Catholic baseball team to the state championship game. That team included Pro Football Hall of Famer Dan Marino and MLB draft picks Mike Berger, Larry Lamonde and Tony LaCava.
Emanuele is a 2001 inductee into the Pennsylvania Sports Hall of Fame and a 2002 inductee into the National Italian American Sports Hall of Fame. In 2012, he was again honored by the National Italian American Sports Hall of Fame with its Lifetime Achievement Award.
In addition to teaching math at Central Catholic High School for 40 years, he also was the manager of the Jay's Book Stall in Oakland for 45 years before it closed in 2008. Emanuele was a Major League Baseball scout for the Kansas City Royals for 19 years and and for the Atlanta Braves for 11 years.
ALISA FAVERO-LUCARELLI -- Women's Basketball, 1988-93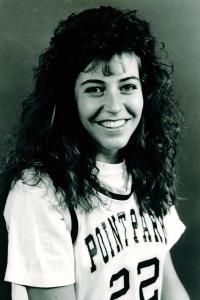 Alisa Favero-Lucarelli, from Pittsburgh, Pa., and Seton-LaSalle High School, is perhaps the best point guard ever to play for Point Park women's basketball. Favero-Lucarelli is the Pioneers' all-time leader in career assists and is also a top-10 all-time scorer at the school.
Favero totaled a school-record 416 assists during her time at Point Park from 1988-93 and also scored 1,180 points to rank 10th in school history. A four-year starter who also took a redshirt due to injury in 1991-92, Favero is sixth in the Point Park record book with 108 games played. Favero also shows up in the record book in fourth place with a career free-throw percentage of 73.6 and eighth place with 97 career 3-point field goals made.
Favero was an NAIA scholar-athlete who led the Pioneers to an NAIA District 18 playoff appearance during her senior year of 1992-93. She stayed on after her playing career was over to be an assistant coach on the Pioneers' staff.
Favero's high school career at Seton-LaSalle included being a member of a state championship team under coach Don DiLucente. She also played for AAU national championship teams in 1984 and 1986.
An elementary education major, Favero is currently a first-grade teacher in the Bethel Park School District. She married former Point Park baseball standout Joe Lucarelli.
BRYAN NEAL -- Baseball, 1994-97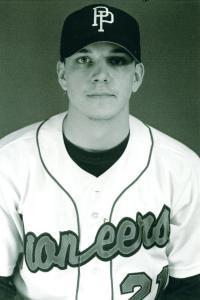 No pitcher in the history of Point Park baseball has won more games, pitched in more games or pitched more innings than Bryan Neal. A native of McKeesport, Pa., and a McKeesport High School graduate, Neal is tied for the school's all-time lead in career wins with 24 over four years from 1994-97. He is also the outright school record-holder in career appearances with 61 and career innings pitched with 233.2.
Neal spent most of his time as a starting pitcher, although he did total six career saves to rank tied for third in team history. He racked up 151 career strikeouts, which is sixth in the Point Park annals.
Neal's career won-loss record of 24-10 gives him an impressive winning percentage of .705. During that time, the Point Park team had a record of 124-90-1, which equates to a team winning percentage of .579. Neal's best season came as a senior in 1997 when he was 12-3 for a Point Park team that finished 32-23 overall.
Neal pitched the Pioneers to within one game of the NAIA World Series in 1997. After getting the win in a regional semifinals, Neal came back to pitch on short rest in the finals, but Point Park came up short. He proved to be a work horse that year with seven complete games in 14 starts.
Neal had a respectable career ERA of 5.01 in what was the most prolific offensive time period ever for college baseball. Neal always put the Pioneers in a position to win, and the team won at a better rate when he was on the mound.
Neal is currently the pitching coach for the Point Park baseball program, a role that he has had for the last four years from 2010-13. His pitching staff has regularly ranked among the NAIA leaders in team ERA, including the 2012 team that that was ninth in the country and pitched the Pioneers to the NAIA World Series, the team's 11th trip all-time.
CHIVAS WHIPPLE -- Men's Basketball, 2005-08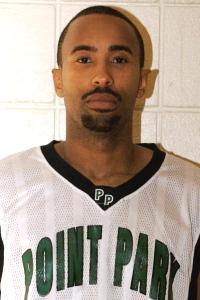 Chivas Whipple's resume as a three-time NAIA Division II All-American speaks for itself. Whipple is undoubtedly one of the top talents ever to play men's basketball at Point Park, where he spent three years from 2005-08. The Youngstown, Ohio, native and Calvary Christian graduate is the fourth all-time leading scorer (1,736 points) and sixth all-time leading rebounder (731 rebounds) in program history. He also ranks fifth all-time in steals (181 steals).
What's most impressive about Whipple is that his impressive all-around skill set and ability to do everything on the floor comes in the frame of a player who is 6-foot-1. Whippple's career statistics include 20.6 ppg, 8.7 rpg, 2.4 apg and 2.2 spg. He shot 52 percent from the field and 80 percent from the foul line during his career.
Whipple is one of only three players in school history with at least 1,600 points, 700 rebounds, 200 assists and 180 steals. The only two others are Hall of Famer Melvin Paul and Hall of Fame nominee Joe McMillan. At 6-1, he is the shortest player on the school's Top-10 career rebounding list.
Whipple's best season came as a junior in 2006-07 when he was an NAIA Division II First Team All-American who led the Pioneers to a No. 3 ranking in the country and the No. 3 overall seed in the national tournament. He was the American Mideast Conference Player of the Year that season with averages of 20.3 ppg, 8.6 rpg and 56 percent field goals.
Whipple entered on the Point Park scene as the AMC Newcomer of the Year and an NAIA Division II Honorable Mention All-American in 2005-06. That year he averaged a double-double with career-high averages of 24.0 ppg and 11.1 rpg. As a senior in 2007-08, he was named NAIA Division II All-American for the third time in his career with a Third Team honor. He averaged at 18.1 ppg, 6.7 rpg and a career-best 84.7 percent from the foul line.
Whipple's career scoring average of 20.6 ppg is ninth in Point Park history. His career-high of 44 points versus Geneva on Feb. 21, 2006 are one off the school record, and his one of only six Point Park players to score more than 40 points in a game.
A political science major at Point Park, Whipple has gone on to a career as a youth counselor near his hometown of Youngstown, Ohio, where is also a high school boys' basketball assistant coach.
Register Online for the 2013 Pioneer Athletic HOF Induction Ceremony
To register for the Pioneer Athletic Hall of Fame Induction Ceremony, visit the Hall of Fame home page. The induction ceremony will be held Sat., Sept. 28, 2013 at Lawrence Hall. Reception at 5 p.m., Dinner at 6 p.m. Cost is $20 per person.