PIONEER ATHLETIC HALL OF FAME CLASS OF 2014: COLAMARINO, PROSSER AND WERTZ-BRUBACH
June 5, 2014 at 12:00 p.m. ET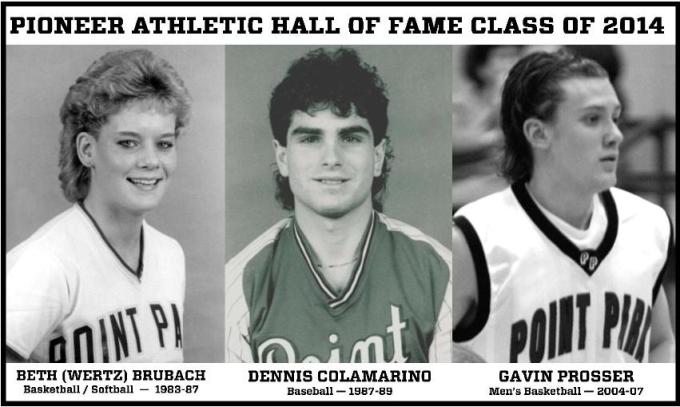 REGISTER ONLINE! -- Class of 2014 Induction Ceremony Sept. 27, 2014!
PITTSBURGH -- Point Park University's Pioneer Athletic Hall of Fame is pleased to announce its inductees for the Class of 2014, which are Dennis Colamarino (Baseball, 1987-89), Gavin Prosser (Men's Basketball, 2004-07) and Beth Wertz-Brubach (Women's Basketball & Softball, 1983-87).
The Class of 2014 will be honored at the 2014 Pioneer Athletic Hall of Fame Induction Ceremony on Saturday, September 27, 2014 in Lawrence Hall on the Point Park University campus. The Induction Ceremony will feature a reception at 5:00 p.m. and a dinner at 6:00 p.m. and is a part of the fourth-annual Point Park Athletics Alumni Weekend September 26-28.
Details on the Induction Ceremony, including ticket reservations, will be announced later in the summer on the Pioneer Athletic Hall of Fame section of Point Park athletic website.
With the addition of Colamarino, Prosser and Wertz-Brubach for the Class of 2014, the Pioneer Athletic Hall of Fame will have 52 individuals and one team enshrined. Upon induction, all honorees are enshrined in the Hall of Fame display area in the Point Park University Student Center.
The Pioneer Athletic Hall of Fame was established in 1973 and then re-born in 2000 to recognize the outstanding accomplishments of Pioneers student-athletes, coaches and administrators. Nominations are taken from the general public on the Point Park athletic website. The Class of 2014 was voted upon and selected by the Pioneer Athletic Hall of Fame Committee.
The following are the biographies of the Pioneer Athletic Hall of Fame Class of 2014:
DENNIS COLAMARINO -- Baseball, 1987-89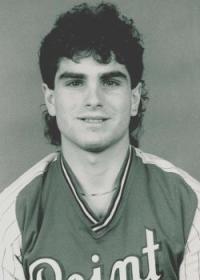 Dennis Colamarino ended his Point Park career as perhaps the best Pioneers hitter of his time, a distinction that is impressive considering the success of the team and the amount of talented players who were his teammates.
Colamarino played in the NAIA World Series in all three of his years at Point Park from 1987-89, and he was an NAIA Honorable Mention All-American second baseman. A native of Pittsburgh, Pa., and a graduate of Shaler High School, Colamarino hit .388 with 14 home runs and 155 RBIs in 151 career games for the Pioneers.
He came to Point Park when the Pioneers were in the midst of five NAIA World Series appearances in the six years from 1986-91. He was a starter all three of his years with Point Park, and upon his graduation, he was the only player in the long tradition of Pioneers baseball to rank in the Top 10 of every offensive category.
Colamarino still ranks ninth in program history with a .388 career average, fifth with 155 career RBIs and 10th with 184 career hits. He started his career at Kent State, and if given a fourth season in the green and white, he would be much higher in the record books.
As of his graduation in 1989, Colamarino was the third all-time leading hitter at Point Park with his 184 career hits and the all-time RBI leader with 155. At that time, he also ranked eighth in batting average (.388), third in runs (150), ninth in home runs (14), fifth in triples (12), ninth in doubles (25) and third in stolen bases (50).
Colamarino was NAIA Honorable Mention All-American, NAIA Area-8 All-Region and NAIA All-District 18 all three years.
Some highlights of Colamarino's career were his 63 RBIs that led the 1988 team, and his 73 hits in 1987, both of which rank among the best in school history in those categories for a single season. His best average came in 1988 when he hit .391 with a career-high six homers. His 1987 season of 73 hits included a .388 average, 10 doubles, six triples, five homers, 53 RBIs and a career-high 62 runs.
During his time at Point Park, the Pioneers amassed a record of 128-26 for a winning percentage of .829. He played for head coach Mark Jackson, who is the program's all-time leader in career wins at 443-119-4 overall (.793) in 12 seasons.
GAVIN PROSSER -- Men's Basketball, 2004-07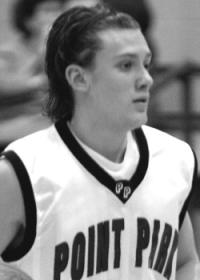 Gavin Prosser is one of the best guards ever to play for Point Park men's basketball. The product of Baldwin High School ranks seventh in scoring, third in assists, second in 3-point field goals made and 10th in steals in the Pioneers' all-time record book.
Prosser, who was the Pioneers' point guard from 2004-07, scored 1,539 points, amassed 473 assists, made 217 3-pointers and totaled 148 steals in only three years at Point Park. After starting out at Slippery Rock, he transferred to the Pioneers and led the team to a record of 61-25 (.709) over the next three seasons.
Prosser was an NAIA Division II Honorable Mention All-American and a three-time all-conference player with career averages of 17.9 points, 5.5 assists, 3.6 rebounds and 1.7 steals per game in 86 games. He shot 42 percent from the field, 75 percent from the foul line and 36 percent from 3-point range during his career.
In addition to ranking seventh in points (1,539), third in assists (473), second in 3-pointers (217) and 10th in steals (148), Prosser also ranks highly in the Pioneers' record book with 491 field goals made (11th), 1,169 field goals attempted (7th), 340 free throws made (4th) and 451 free throws attempted (6th).
Prosser did all of that in three years. The only player ahead of him on the scoring chart who played three years was teammate and Hall of Famer Chivas Whipple, who ranks fourth with 1,736 points from 2005-08. All-time leading scorer Bobby Franklin, a Hall of Famer who scored 2,020 points from 1973-77, is the only other Hall of Fame-eligible point guard to score more points for the Pioneers.
Prosser's senior year of 2006-07 included the Pioneers going 29-2 to earn a No. 3 ranking in the final NAIA Division II Top 25 Poll and an appearance in the national tournament. The Pioneers won the American Mideast Conference North Division and the AMC Tournament that year on their way to setting a team record for wins, winning percentage (.935), consecutive wins (19-0) and highest national ranking (No. 3).
With Prosser at point guard, the Pioneers led the nation in scoring in 2005-06 (89.8 ppg) and 2006-07 (92.9 ppg), the latter of which set a school record at the time. Prosser's best year individually came in 2004-05, but he sacrificed personal accomplishments for team success his last two seasons.
Prosser averaged 22.1 ppg and 5.5 apg and made a school-record 102 3-pointers in 2004-5. The 663 points he scored that year as a sophomore are the fifth-highest, single-season total in Point Park history.
Prosser is currently an assistant manager at the Point Park Student Center and an assistant coach for the Point Park men's and women's golf teams. He is also currently the girls' basketball head coach at his alma mater, Baldwin High School.
BETH WERTZ-BRUBACH -- Women's Basketball & Softball, 1983-87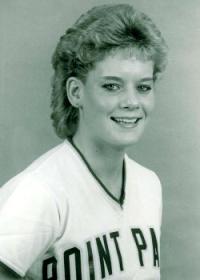 Beth Wertz-Brubach was a standout, two-sport athlete at Point Park who starred in women's basketball and softball from 1983-87. Wertz was a top player for Point Park women's basketball in what was arguably one of the best eras in program history. She was also a starter for a Pioneers softball program was in its early years of existence in the early-to-mid 1980s.
Wertz, whose married named is Beth Brubach, was a part of three NAIA District 18 playoff-qualifying teams with Point Park women's basketball. A product of Seton-LaSalle High School, where she won a WPIAL Class-AA title in 1983, Wertz-Brubach was a part of Point Park's NAIA District 18 championship team in 1983-84.
A 5-6 guard/forward, Wertz amassed 974 career points, 549 career rebounds and 387 assists for the Pioneers. Although she finished just under the 1,000-career points milestone, she had a career double-digit scoring average of 11.1 ppg. An all-around, strong player, Wertz also averaged 6.2 rebounds and 4.4 assists per game.
Wertz-Brubach's most prominent place in the Point Park record book has her ranking third all-time in career assists with 387. Her 974 points rank 13th in program annals, and her 549 rebounds are 16th. Although there were other players who amassed more points and rebounds, Wertz-Brubach's greatest strength was as all-around player.
That fact is best signified by Wertz-Brubach being one of only two players in Point Park women's basketball history with more than 900 points, 500 rebounds and 300 assists. The only other is teammate Joyce Phillips a 5-5 guard , who amassed 1,517 points, 781 rebounds and 333 assists from 1983-87 and is a top candidate for the Hall of Fame in the future.
Wertz-Brubach's best year came in 1984-85 when she led the Pioneers to the NAIA Distrcit 18 playoffs with 14.1 ppg and 9.1 rpg and a career-high 353 points. That earned her NAIA District 18 all-star honors. She also had a strong year of 11.2 ppg in 1985-86 as the Pioneers reached the NAIA District 18 playoffs once again.
In softball, she was an NAIA District 18 first-team all-star as a four-year starter. She played catcher and outfield for a Pioneers' softball program that had just been started in 1982. She was a team leader for the Pioneers as a four-year player.
MORE INFORMATION
For more information, visit the Pioneer Athletic Hall of Fame website at www.pointpark.edu/athletics/halloffame.