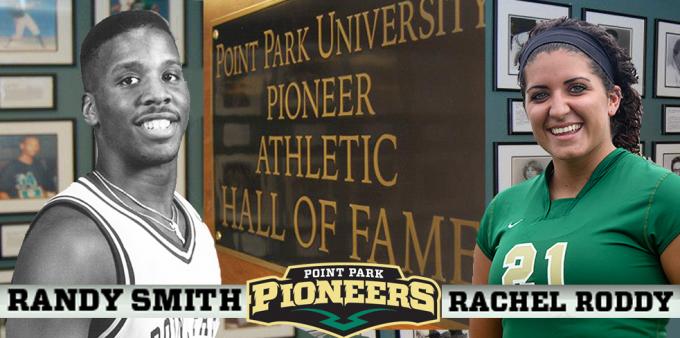 PITTSBURGH -- Point Park University's Pioneer Athletic Hall of Fame is pleased to announce the inductees for the Class of 2015, which are Randy Smith (Men's Basketball, 1989-93) and Rachel Roddy (Volleyball, 2007-10).
Smith, from Cleveland Heights, Ohio, is a top-10 all-time scorer and rebounder in the history of Point Park men's basketball. An NAIA Honorable Mention All-American and a two-time NAIA District 18 all-star, Smith scored 1,494 career points and grabbed 696 career rebounds from 1989-93. He was also the president of United Student Government and an Academic All-American candidate.
Roddy, from Greensburg, Pa., and Greensburg Salem High School, was the backbone of Point Park volleyball from 2007-10 and led the ushering in of the current state of the Pioneers program. An AVCA-NAIA All-Northeast Region player, Roddy had career totals of 1,628 kills and 1,668 digs to join a rare category of collegiate volleyball players surpassing 1,000 in both categories. In the classroom, she had a 3.92 GPA as an NAIA Scholar-Athlete.
The Hall of Fame Class of 2015 will be enshrined at the induction ceremony on Saturday, Sept. 26, 2015 on campus. The ceremony will feature a reception at 5:00 p.m. and a dinner at 6:00 p.m. Tickets are $25 per person and are on sale at the Hall of Fame home page. The Hall of Fame induction is a part of the Fifth Annual Point Park Athletics Alumni Weekend.
The Pioneer Athletic Hall of Fame was established in 1973 and then re-born in 2000 to recognize the outstanding accomplishments of Pioneers student-athletes, coaches and administrators. Nominations are taken from the general public on the Point Park athletic website.
The Class of 2015 was voted upon and selected by the Pioneer Athletic Hall of Fame Committee. With the addition of Smith and Roddy, there will be 54 individuals and one team enshrined in the Hall of Fame display area on the second floor of the Student Center on campus.
The following are biographies of the Pioneer Athletic Hall of Fame Class of 2015:
RANDY SMITH -- Men's Basketball, 1989-93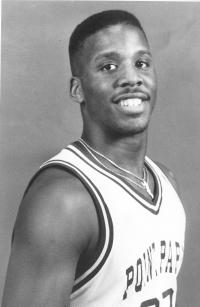 Randy Smith is one of the most accomplished players in Pioneers men's basketball history, and the results show. A four-year starter from 1989-93, Smith brought an all-around game to Point Park that few others have displayed on campus.
The 6-3, 205-pound guard/forward from Cleveland Heights, Ohio, racked up career totals of 1,494 points, 696 rebounds, 286 assists and 180 steals. He is one of only four players in Point Park history with more than 1,000 points, 600 rebounds and 250 assists. And with Smith's induction into the Pioneer Athletic Hall of Fame, he is the third one of those four to be inducted joining Melvin Paul and Chivas Whipple.
"Randy was very talented, he was a leader, he could play any position on the floor and he was the heart and soul of our team for four years," said Point Park's 26th-year coach Bob Rager, whose first year was Smith's freshman season of 1989-90. "Randy was selfless. He did anything we asked and was a great player for us."
Smith's place in the Point Park basketball record book is firm to this day as he ranks eighth all-time in scoring (1,494), seventh all-time in rebounding (696), 13th in assists (286), sixth is steals (180), sixth in total field goals made (581) and seventh in games played (105). He made 217 career free throws, which is 14th all-time.
When he graduated in 1993, he was the school's fourth all-time leading scorer. He shot 44 percent from the field, and his 115 made 3-point field goals -- a school record when he graduated -- still rank in the Top 20 on the Pioneers' charts. Of his 105 career games played, he was a starter for 104 of them with the only non-start coming his freshman year.
Smith was a two-time NAIA District 18 all-star and an NAIA Honorable-Mention All-American. The All-American honors came his way when he averaged 17.4 points and 7.6 rebounds per game in 1990-91. The next year, he averaged 16.3 points and 7.4 rebounds.
As a senior, he led the Pioneers to an 18-10 record and a trip to the NAIA District 18 playoffs. That year, he played alongside fellow Pioneer Athletic Hall of Famer Kenny Walls, a forward.
Also a great student, Smith was a candidate for Academic All-American and had one of the highest GPAs on the team. Smith was also the president of the United Student Government.
RACHEL RODDY -- Volleyball, 2007-10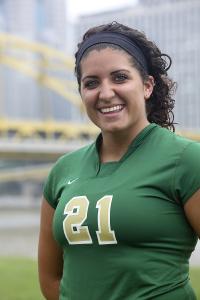 Rachel Roddy is one of the top volleyball players in the history of the Pioneers program, and she was the team captain and leader during the resurgence of the Pioneers program from 2007-10. Point Park had a record of 105-50 during her four years, and she was the team captain her final three seasons.
A 5-9, right-side hitter who played all six rotations, the Greensburg, Pa., native played virtually every point for four years. A great, all-around performer, Roddy totaled 1,628 career kills and 1,668 career digs. She is still the only Pioneers player ever to eclipse 1,000 in both areas.
"Rachel Roddy embodied all the true qualities of a student-athlete," said Pioneers 10th-year volleyball coach Mike Bruno. "Her impact was well beyond the volleyball court. She excelled in the classrom as well as in the community."
Roddy was an AVCA-NAIA All-Northeast Region First-Team selection as a senior in 2010 when she amassed a career-high 445 kills. That was her second straight year as an All-AMC First-Team selection (2009-10). She was also AMC Honorable-Mention in 2007.
Roddy surpassed 400 kills in three different seasons. She had 439 kills and 402 digs her junior year. Roddy's career-high of 538 digs came as a freshman. An excellent server, Roddy totaled 173 career services aces while serving at a 85.8-percent accuracy rate over four years.
Roddy's ball control was a major foundation of the team's success. In serve-receive, Roddy passed at a success rate of 93.7-percent for her career. That included her senior year when she made only 12 receipt errors in 879 chances and 135 sets.
Point Park had a record of 32-8 in Roddy's junior year of 2009 and made a run to the AMC Tournament finals. It was the Pioneers' first 30-win season. Point Park was 29-10 the next year and once again made the AMC playoffs. It was then that Point Park became a yearly, conference contender and factor in NAIA volleyball.
Roddy became a dual-sport athlete at Point Park when she played basketball for one year in 2009-10. Although known most for her volleyball playing, Roddy averaged 5.0 points and 3.0 rebounds per game in basketball that year.
Roddy was a two-time NAIA Scholar-Athlete with a 3.92 grade-point average in elementary education. She won numerous academic awards during her career. As a senior, the Greensburg, Pa., native was named the Westmoreland County Sportswoman of the Year.
For more information on the Pioneer Athletic Hall of Fame or to purchase tickets to the Class of 2015 induction on Sept. 26, visit www.pointpark.edu/athletics/HallofFame.
To nominate a deserving candidate for the Hall of Fame, complete the online nomination by clicking here.
Related Links:
Fifth Annual Point Park Athletics Alumni Weekend Sept. 25-26, 2015
Point Park Athletics Golf Outing Sept. 25, 2015 at Hickory Heights
Pioneer Athletic Hall of Fame Home Page