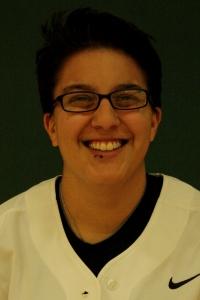 NICHELLE NAVARRO -- Softball
April 23, 2012
Nichelle Navarro is a senior right fielder for the Point Park University softball team, and she is this week's Featured Athlete. Navarro a native of Buena Park, Calif., and she transferred from Golden West (Calif.) Junior College last year.
Navarro, the Pioneers' leadoff hitter, is having a career year with a batting average of .356, eight doubles and 12 RBIs. She is second among the regular is hitting and leads the team with 13 stolen bases in 14 attempts.
Navarro is hitting .338 with two homers and 28 RBIs in 74 career games. Last year, she was named All-AMC Honorable Mention. She is one of six seniors who were honored on Senior Day April 21 vs. Fisher.

2011-12 Featured Athletes
April 16 -- Alejandro Bernardini, Men's Golf
April 9 -- Lee Bodnar, Baseball
April 2 -- Ashley Morran, Softball
March 26 -- Javier Marticorena, Baseball
March 19 -- Kelsey Robertson, Softball
March 12 -- Derek Peluso, Baseball
Feb. 27 -- Emily Schartner, Women's Basketball
Feb. 20 -- Kristen Beatty, Women's Basketball
Feb. 13 -- Robbie Heatherington, Men's Basketball
Feb. 6 -- Kristen Veseleny, Women's Basketball
Jan. 31 -- Dante Anglin, Men's Basketball
Jan. 18 -- Devon Alexander, Men's Basketball
Jan. 11 -- April Austin, Women's Basketball
Dec. 21 -- Jimmy Taylor, Men's Basketball
Dec. 14 -- Joncelyn Peterkin, Women's Basketball
Dec. 7 -- T.J. Heatherington, Men's Basketball
Nov. 30 -- Kristina Stammer, Women's Soccer
Nov. 16 -- Alex Sala, Men's Soccer
Nov. 9 -- Keri Rouse, Women's Cross Country
Nov. 2 -- Alyssa Hall, volleyball
Oct. 25 -- Dylan Grunn, men's cross country
Oct. 18 -- Matt Annecchiarico, men's soccer
Oct. 11 -- Tayler Pugliese, volleyball
Oct. 4 -- Kileigh Williams, women's soccer
Sept. 27 -- Austin Elder, men's golf
Sept. 19 -- Andrew Rowland, men's cross country
Sept. 12 -- Ashley Goodsell, women's cross country
Sept. 5 -- Shane Lucas, men's soccer
Aug. 29 -- Lindsey Oberacker, volleyball
Aug. 22 -- Lauren Evans, women's soccer