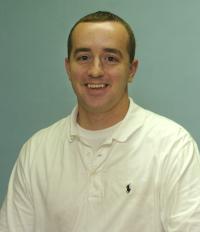 KEVIN TAYLOR -- Director of Athletic Communications
ktaylor@pointpark.edu
(412) 392-3997
7th year at Point Park
Alma mater: IUP '06, IUP '07 (MS)
Kevin Taylor has been the Director of Athletic Communications at Point Park University since July 2008. He is the host for all media at Point Park home atheltic events. The 2014-15 school year is his seventh with the Pioneers.
Taylor's primary responsibilities include handling the day-to-day and game-day operations of Pioneers' sports information in addition to managing the athletic website, creating publications, writing press releases, directing the live video streaming on the Point Park Sports Network, managing social media platforms and reporting to conference and national offices.
During his time at Point Park, Taylor has led a re-design of the Point Park athletics website, launched the department's social media platforms for the first time ever, launched the University's first-ever live video streaming network, the Point Park Sports Network, led the process of the Pioneers' new athletic logo, overseen the selection of the Pioneer Athletic Hall of Fame and gained consistent media coverage for the school's sports teams in the Pittsburgh and regional media.
He is in his seventh year as a member of the College Sports Information Director's of America and the NAIA-Sports Information Director's Association. Under his guidance, the Point Park atheltic website has twice been named by NAIA-SIDA among the top-10 in-house web sites in the NAIA.
Prior to his time at Point Park, Taylor served as a student assistant in the IUP sports information office from 2002-2007 while pursuing undergraduate and graduate degrees in sports administration. The final year of his tenure at IUP included a graduate assistantship.
At IUP he assisted with all aspects of sports information. The sports the he helped to cover included football, basketball, baseball, softball, soccer, field hockey and lacrosse. His primary responsibilities included assisting with game and event management, official scoring and writing content for publications.
While completing his education, Taylor served as a sports writer at The Indiana Gazette for five years of service. Primary duties included covering sports on the professional, college, high school and youth levels.
Highlights from his time at The Gazette include covering the Pittsburgh Pirates, covering the 2007 U.S. Open at Oakmont Country Club, writing a weekly Sunday column, serving as the beat writer for local college basketball and serving as one of the newspaper's top writers for high school football, basketball and baseball.
After completing his graduate degree in August 2007, Taylor spent the next 10 months working in the activities and recreation department of Wyndham Bonnet Creek Resort, a timeshare resort in Orlando.
A native of Indiana, Pa., Taylor resides in Pittsburgh. He and his wife Meagan were married Jan. 7, 2011 at Walt Disney World in Orlando, Fla.