NAIA national qualifier Mulvaney leads Point Park at KIAC Men's XC Meet
Nov. 9, 2013 at 11:00 p.m. ET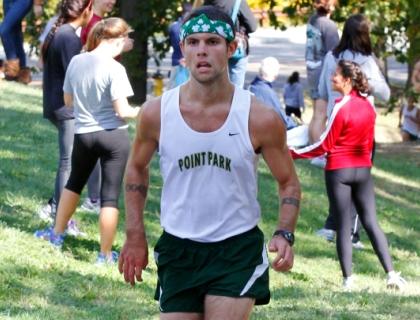 Junior Connor Mulvaney placed 8th in the KIAC Meet to qualify for the NAIA national meet. Photo by Evan Skowvron.
MIDWAY, Pa. -- Junior Connor Mulvaney placed eighth individually to qualify for the NAIA national championship meet as the No. 1 runner for Point Park University led the Pioners to a sixth-place finish at the KIAC Meet on Saturday (Nov. 9) at Midway (Ky.) College.
Mulvaney, from Coraopolis, Pa., and a Moon Area High School graduate, earned All-KIAC Second Team honors with a time of 28:26 in the 8K race. He will compete in the NAIA national meet Nov. 23 in Lawrence, Kan., and it will be his first appearance at nationals.
In the span of 12 months, Mulvaney went from 35th place (30:04) at the 2012 KIAC Meet to eigthth place and all-conference in 2013. This year's KIAC individual champion was Jeremy Johnson of Berea with a time of 26:46.
Berea won the team title by a wide margin with 22 points. Second-place IU East had 74 points followed by Asbury with 86 as the only other teams under 100 points. Berea won easily with its top individuals placing 1st, 2nd, 3rd, 5th and 11th and advances its team to the national meet.
Sophomores Zane Kravec and Eric Engel placed 22nd an 23rd, respectively for Point Park with close times of 29:27 and 29:29. Ian McIntosh (31:06) and Luke Shannon (31:53) rounded out the top five for the Pioneers. Also competing were Adam Free (35:16) and Tim Wadell (36:16).