Point Park takes 3rd of 10 teams at KIAC Meet, Jiraskova an NAIA qualifier
Nov. 9, 2013 at 10:30 p.m. ET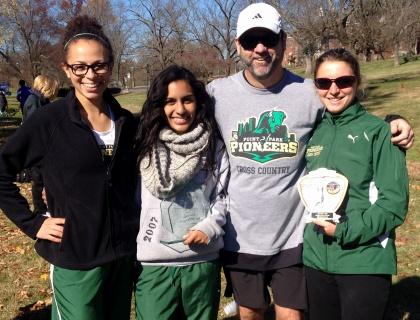 Point Park's All-KIAC honorees (L to R) Ashley Czerniewski-Hagan, Marissa Buchheit and Hana Jiraskova with head coach Jim Irvin. Submitted Photo.
MIDWAY, Ky. -- The Point Park University women's cross country team placed third of 10 teams at the Kentucky Intercollegiate Athletic Conference Meet on Saturday at Midway (Ky.) College with three runners placing on the all-conference teams and junior Hana Jiraskova qualifying for the NAIA national meet for the second year in a row.
Jiraskova, from the Czech Republic, led the Pioneers with a fifth-place showing at 20 minutes, 40 seconds in the 5K. That was good enough to qualify for the NAIA meet as an individual and earn All-KIAC First Team honors
Point Park freshman Ashley Czerniewski-Hagan, from Baldwin, Pa., and sophomore Marissa Bucchheit, from Bradford, Pa., placed 9th and 10th, respectively, to earn All-KIAC Second Team accolades.
Czerniewski-Hagan (21:03) and Buchheit (21:06) gave the Pioneers three runners in the top 10 something that team champion Brescia was the only other school to do.
Brescia (Ky.) won the team title and qualified its squad for NAIAs with 41 points followed by Asbury (Ky) with 50 and Point Park in third with 70. St. Louis College of Pharmacy, which had individual champion Sarah Pollman (20:11), came in fourth in the team standings at 112 points.
Brescia, Asbury and Point Park each had three runners in the top 11 and four in the top 18. Junior Katie Johnston placed 18th as the fourth finisher for Point Park at 21:57, and Christina Wisniewski was next in 28th place at 22:58.
Lindsey Palmer completed the 5K in 23:07, good for 33rd place followed by Keri Rouse at 24:14 and 44th place. Also competing for Point Park were Bryn McClay (25:50) and Becky Lessner (26:45).
The third-place finish by Point Park is one spot better than the Pioneers accomplished in 2012, their first year in the KIAC.
Jiraskova will compete in the NAIA national meet as an individual qualifier Nov. 23 in Lawrence, Kan. It is the second year in a row that the Czech Republic native has made nationals. She transferred to Point Park last year from Maryland Eastern Shore.