Wilkins' 5K school record earns KIAC Women's XC Runner of the Week honors

Oct. 14, 2014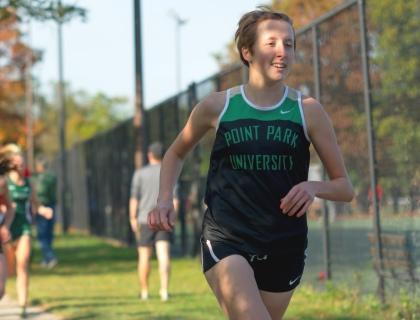 Photo by Chris Squier.
PITTSBURGH -- With her Point Park University women's 5K school record set at Carnegie Mellon on Saturday, sophomore Kelsey Wilkins was named the KIAC Women's Cross Country Runner of the Week, announced the league office Monday.
Wilkins, a graduate of Central Valley High School, raced to a school-record time of 19:31 at the CMU Meet. Wilkins, who is running cross country for the first time in her life, broke the previous 5K record by 20 seconds. That time was good for 17th place of 199 runners from 20 teams.
She came to Point Park as a member of the women's soccer team last year as a freshman but has switched to cross country this year. Wilkins has been the Pioneers' top finisher in three of the five meets so far.
Wilkins received the KIAC weekly honor for the first time this week. She joins teammate Katie Guarnaccia, a two-time winner of the award, to give the Pioneers the conference honoree in three of the last four weeks.
The Pioneers on back in action this Friday, Oct 17 at the Wilmington (Ohio) Invitational where they will see many KIAC teams to offer a preview of the KIAC Championship Meet hosted by Point Park Nov. 8 in Schenley Park.
Follow the Pioneers on Twitter @PointParkSports #PPUXC