Point Park's Jiraskova named KIAC Women's Cross Country Runner of the Week
Oct. 16, 2013 at 4:00 p.m. ET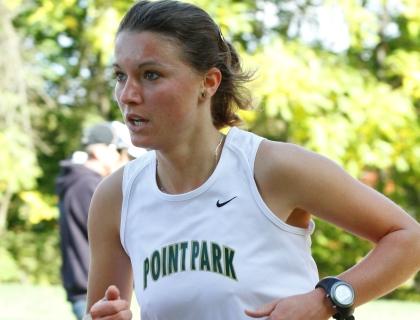 PITTSBURGH -- Point Park University junior Hana Jiraskova was named the KIAC Women's Cross Country Runner for her high finish at the Carnegie Mellon Invitational Oct. 12 at Schenley Park.
Jiraskova, from the Czech Republic, had a career-best 5K time of 19:51 to place 23rd of 193 runners in the race. Jiraskova, an NAIA national meet qualifier in 2012, her first year at Point Park, was the first Point Park women's runner to place in the top 25 of the CMU meet.
Most of the 22 runners to finish ahead of Jiraskova at CMU came from NCAA Division II or host Carnegie Mellon. The University of Pittsburgh competed, and Jiraskova beat all of Pitt's runners, the best of which had a time of 19:57.
Jiraskova and the Pioneers are off this weekend before ending the regular season Oct. 26 at the Carlow Meet. The KIAC Meet is Nov. 9 at Midway (Ky.), where Jiraskova will be looking for another strong performance. She was second in the KIAC last year to qualify individuall for the NAIA national meet.