Point Park women's cross country races at Walsh Meet, eyes KIAC Meet next
Oct. 27, 2012 at 11:59 p.m. ET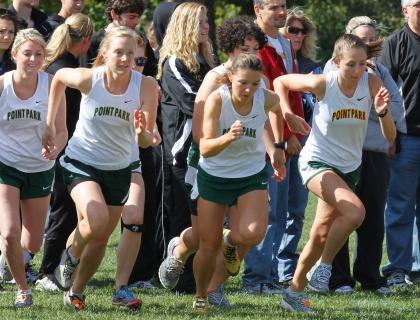 Pictured: Point Park gets off the starting line at the CMU Meet Oct. 6. Photo by Evan Skowvron.
NORTH CANON, Ohio -- The Point Park University women's cross country team raced at the Walsh University Meet on Saturday, its final event before next week's KIAC Championship Meet Nov. 3 at IU East.
Point Park finished 3rd of 3 teams at the Walsh Meet, which was a 5K. NCAA DII schools Walsh and Malone were the only other schools in the race.
"The women's team ran well today," said Point Park head coach Jim Irvin. "Conditions were tough with a steady rain and cold tempartures. The times are good going into the KIAC Meet."
Hana Jiraskova was the top finisher for Point Park, and she placed 11th with a time fo 20:35. Lindsay Dill was 14th at 20:52, and Katie Johnston 18th at 21:59. Marissa Buccheit gave the Pioneers four runners around 22 minutes and under with a time fo 22:02.
For complete meet results, click the link above.