Lindsay Dill & Keri Rouse named Daktronics-NAIA Scholar-Athletes in cross country
Nov. 28, 2012 at 9:10 p.m. ET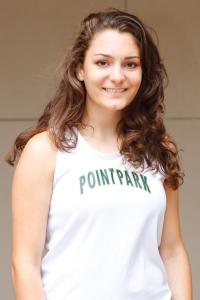 Lindsay Dill                                                     Keri Rouse
PITTSBURGH -- Point Park University women's cross country runners Lindsay Dill and Keri Rouse have been named Daktronics-NAIA Scholar-Athletes for the 2012 season. Dill and Rouse were two of the 317 women's cross country student-athletes nationwide to receive the honor this year.
Daktronics-NAIA Scholar-Athletes are those who are juniors or seniors with at least a 3.5 grade-point average. The awardees were announced at the NAIA Cross Country National Championship Meet earlier this month.
Dill is a senior from Erie, Pa., and McDowell High School. She carries a 3.68 GPA in journalism and photojournalism. Rouse is a junior form Greensburg, Pa., and Hempfield High School. She has a 3.8 GPA in journalism and mass communication.
It is the third year in a row that Dill, a fifth-year senior, got the award. Rouse received the honor this year in the first year that she was eligible.
For a complete listing of 2012 women's cross country Daktronics-NAIA Scholar-Athletes, click the link below.
NAIA SCHOLAR-ATHLETES