Point Park women's XC has nice showing at PSU-Behrend -- 4th of 17 teams
Sept. 15, 2012 at 10:00 p.m. ET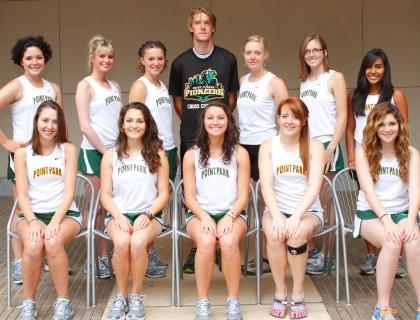 Point Park University W. Cross Country Team Photo 2012. Absent Head Coach Jim Irvin. By Evan Skowvron.
ERIE, Pa. -- The Point Park University women's cross country team put together a nice team showing on Saturday at the Penn State-Behrend Invitational as the Pioneers finished 4th of 17 teams.
Point Park had a team score of 147, which was 30 points behind third-place Westminster (117). The event was dominated by first- and second-place Penn State-Behrend, the host, and Gannon with 33 and 39 points, respectively.
Point Park's top five times totaled 1:50:09 with all of those times coming in under 23:14 in the 5K race.
Hana Jiraskova, a newcomer from the Czech Republic, placed 12th to lead Point Park with a time of 20:55. Not far behind was senior Lindsay Dill, from Erie, Pa., in 14th place at 21:00.
A pair of Point Park underclassmen finished in the 22-minute range as sophomore Katie Johnston (Newville, Pa.) and freshman Marissa Buccheit (Bradford, Pa.) posted times of 22:12 and 22:46, respectively. Freshman Maddie Goldcamp (Beaver, Pa.) rounded out the Point Park score at 23:14.
Also competing for the Pioneers were Christina Wisniewski (24:20), Keri Rouse (25:03), Lindsey Palmer (25:19) and Becky Lessner (27:42).
Point Park returns to action next Saturday, Sept. 22 at St. Vincent. After that meet, the Pioneers are off until Oct. 6 when they visit Carnegie Mellon.
Follow us on Twitter @PointParkSports and Facebook.com/PointParkAthletics