Point Park women's cross country finishes 6th of 13 teams at St. Vincent meet
Sept. 22, 2012 at 11;20 p.m. ET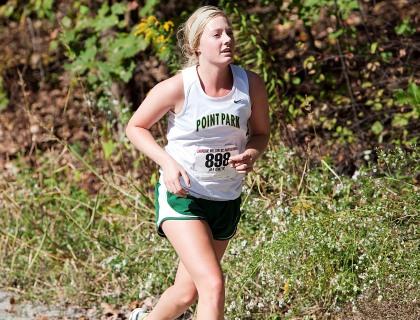 Senior Lindsay Dill had a time of 21:19 and finished 24th at St. Vincent. File photo by Chelsey Engel.
MEET RESULTS: TEAM, INDIVIDUAL
LATROBE -- The Point Park University women's cross country team raced to a sixth-place finish of 13 teams at the St. Vincent Invitational on Saturday.
The Pioneers had a team score of 185, which was just six points behind fifth-place St. Vincent (185). The meet was mainly controlled by the top four teams -- California (35), Geneva (48), Waynesburg (76) and Franciscan (77). After Point Park, the rest of the teams scored above 200 or 300 points.
Hana Jiraskova was the top finisher for Point Park as the native of the Czech Republic completed the 5K race in 21 minutes, three seconds. Lindsay Dill, from Erie, Pa., finished 24th in 21 minutes, 19 seconds.
Marissa Buccheit (22:11), Katie Johnston (22:28) and Christina Wisniewski (24:15) completed the team score for the Pioneers.
Point Park is off until visiting the Carnegie Mellon Inivitational on Oct. 6 in Schenley Park.
For the complete meet results, click the links at the top of the page.
Follow us on Twitter @PointParkSports and Facebook.com/PointParkAthletics