Point Park's Jiraskova named KIAC Women's Cross Country Runner of the Week
Sept. 25, 2012 at 8:40 p.m. ET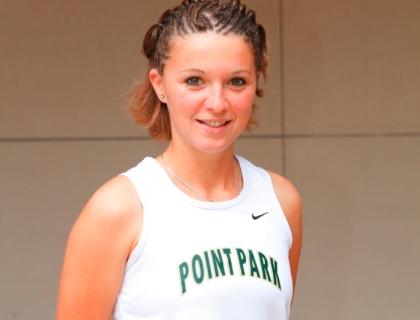 PITTSBURGH -- Point Park University's Hana Jiraskova has been named the Kentucky Intercollegiate Athletic Conference Women's Cross Country Runner of the Week for her performance Sept. 22 at the St. Vincent Invitational.
Jiraskova, a native of the Czech Republic, placed 17th at the challenging St. Vincent course with a time of 21 minutes, three seconds. Jiraskova finished the 5K race just three seconds slower than her season-best time of 21:00 despite the event including multiple climbs up long hills.
Jiraskova transferred to Point Park this year after being at NCAA Division I Maryland Eastern Shore. She has been the top finisher for Point Park in all three meets so far this year.
Point Park and Jiraskova are off until Oct. 6 when they visit the Carnegie Mellon Invitational on Oct. 6. The women's race is at 1 p.m. with the men's race to follow at 1:45 p.m.
Follow us on Twitter @PointParkSports and Facebook.com/PointParkAthletics