Point Park women's cross country opens season 7th of 14 at Waynesburg Meet
Posted Sept. 9, 2012 at 3:00 p.m. ET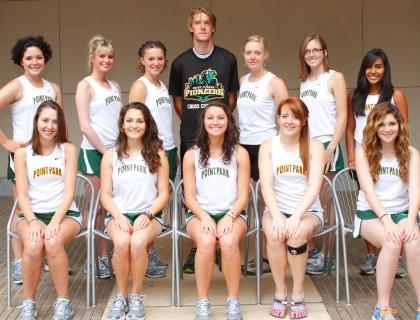 WAYNESBURG, Pa. -- The Point Park University women's cross country team opened the 2012 season on Saturday (Sept. 8) with a 7th-place finish out of 14 teams at the Waynesburg Invitational.
The Pioneers totaled a team score of 201, which was just behind sixth-place St. Vincent (193) and just in front of Washington & Jefferson (203) and Pitt-Johnston (210).
"It was a good first race for the women's team," said head coach Jim Irvin. "We were in good position, and we had good times considering that we had a couple of key runners running their first race in two years, one of which was injured during the race."
Newcomer Hana Jiraskova, a native of the Czech Republic and a transfer from Maryland Eastern Shore, led the Pioneers with a time of 26:13 in the 6K meet to place 23rd individually. Senior Lindsay Dill was not far behind at 26;37 to place 32nd. Jiraskova came in at a pace of 6:58 per mile while Dill ran at 7:05 per mile.
Point Park four runners finish under 28 minutes and five under 29 minutes. Frehman Marissa Buccheit was 37th at 27:01, and sophomore Katie Johnston was 48th at 27:32. Buccheit had been running in the top 15 places before straining a calf muscle. She was hobbled the rest of the way but still produced a good finish. Freshman Maddie Goldcamp was the fifth finisher for Point Park at 28:31 (61st place).
The Pioneers return to competition next Saturday, Sept. 15 at Penn State-Behrend.