Guarnaccia sets Point Park women's 6K record, Pioneers 11th at LHU
Sept. 28, 2014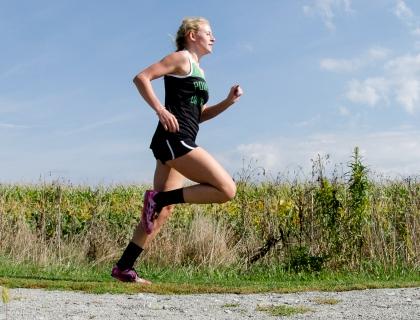 Katie Guarnaccia set at Point Park women's 6K record at 23:23 at Lock Haven. Photo by Chris Squier.
LOCK HAVEN, Pa. -- Freshman Katie Guarnaccia set at Point Park University women's 6K school record, and the Pioneers' women's cross country team placed 11th of 15 teams at the Lock Haven Invitational on Satuday.
Guarnaccia, from North Allegheny High School, finished in 23:23 to place 23rd of 171 runners in the field. She bested the previous school record in the 6K of 23:54 set by teammate Hanka Jiraskova at Waynesburg in 2013.
Saturday continued a strong two-week stretch of Guarnaccia, who was named the KIAC Women's Cross Country Runner of the Week last week for finishing 10th in the St. Vincent 5K race with a time of 20:44.
Jiraskova finished Saturday's race at 24:22 for 48th place and Ashley Czerniewski-Hagan came in at 24:27 for 51st place. Both of those times place in the top five 6K times in program history.
Senior Christina Wisniewski finished in 26:45 for 110th place and a career-best time in the 6K. Alexis Sherman (28:45) and Lindsey Palmer (30:56) also competed for Point Park.
Point Park is off next weekend before the Carnegie Mellon Invitational Oct. 11 in Schenley Park in Pittsburgh.
Follow the Pioneers on Twitter @PointParkSports