Point Park women's cross country comes in third at Chatham Meet
Sept. 29, 2013 at 11:30 p.m. ET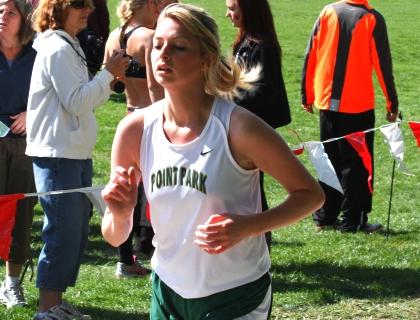 Bryn McClay and the Pioneers placed third of 10 teams at Chatham on Satuday (Sept. 28). Photo by Evan Skowvron.
PITTSBURGH -- The Point Park University women's cross country team placed third of 10 teams at the Chatham Meet on Saturday (Sept. 28), and the Pioneers were just a few points out of second place.
Waynesburg had a big cushion in winning the meet with 40 points. Geneva was second with 70 points, and Point Park was very close behind with 73 points.
The Pioneers had two runners in the Top 10 and four in the top 16 individual placements. Junior Hana Jiraskova, from the Czech Republic, once again led Point Park with a fourh-place showing with a time of 25:27 in the 6K.
Ashley Czerniewski-Hagan, a freshman from Baldwin, Pa., placed 10th at 26:36. Marissa Buchheit and Katie Johnston came in together a minute later at 27:26 and 27:33, in 15th and 16th place, respectively. Christina Wisniewski was the fifth Point Park runner to finish, and her time of 28:55 was good for 36th place.
Bryn McClay (33:23) and Becky Lessner (33:33) also competed for the Pioneers, who had the roster strengthened with the return of Katie Johnston, who had missed the first two meets and has been one of the top runners for Point Park.
With three meets under their belts, the Pioneers have now finished second, fourth and third in consecutive weeks. Point Park visits the Pitt-Greensburg Invitational next Saturday, Oct. 5.
Follow the Pioneers on Twitter @PointParkSports and Facebook.com/PointParkAthletics