Point Park women's cross country takes 3rd place of 20 teams at PSU-Behrend

Sept. 13, 2014 at 10:20 p.m. ET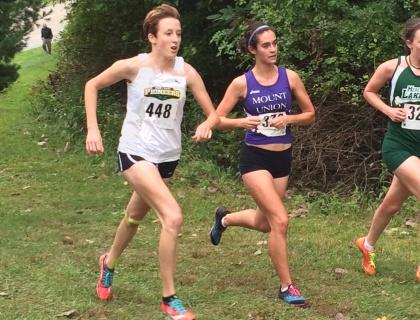 Kelsey Wilkins placed seventh individually to lead Point Park at PSU-Behrend.
ERIE, Pa. -- The Point Park University women's cross country team had a strong showing on Saturday at the Penn State-Behrend Invitational placing third of 20 teams and having three individuals earn medals for high finishes.
Mt. Union ran away with the team title with 21 points. Next was Daemen (N.Y.) with 89 points followed by Point Park in third with 101 points. In the field of 165 runners, Point Park placed all of its top-five performers among the top 31 finishers. That helped keep NCAA Division II schools Mercyhurst and Gannon in fourth and fifth place, respectively.
Point Park ran with strong schools in its first meet of the year that had team scoring. The Pioneers opened up two weeks ago at the Wooster Invitational, which had individual placements only. On Saturday, Point Park ran in a strong top 5 that included powerhouse Mt. Union and three NCAA Division II schools Daemen, Mercyhurst and Gannon.
Sophomore Kelsey Wilkins, from Central Valley High School, paced Point Park in seventh place individually. She completed the 5K in 20:01, a time that is good for the top three in the history of Point Park women's cross country in a 5K and 10 seconds off the school record of 19:51 held by teammate Hanka Jiraskova.
Freshman Katie Guarnaccia, from North Allegheny High School, placed 15th at 20:25 to earn a medal. Also earning a medal was Jiraskova, who placed 19th with a time of 20:40.
Sophomore Ashley Czerniewski-Hagan placed 29th at 21:11, and sophomore Emily Maxwell was 31st at 21:18 to set the Pioneers' team score of 101. Also competing for Point Park were Christina Wisniewski (22:52), McKenzie Wilson (23:54) and Alexis Sherman (25:14).
Point Park's next competition is Sept. 20 at St. Vincent. Follow the Pioneers on Twitter @PointParkSports