Point Park women's cross country opens season at Waynesburg, places 2nd
Sept. 14, 2013 at 11:59 p.m. ET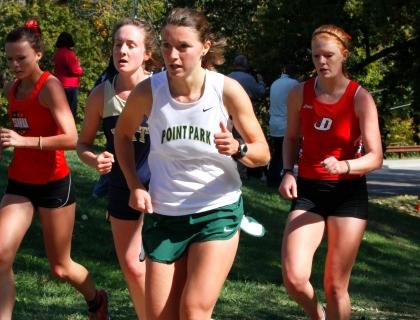 Hana Jiraskova set the Point Park 6K record with a time of 23:54 at Waynesburg. 2012 Photo by Evan Skowvron.
WAYNESBURG, Pa. -- The Point Park University women's cross country team opened its 2013 season on Saturday at the Waynesburg Invitational and placed second with four individuals in the top 14 placements.
Hana Jiraskova, a junior from the Czech Republic, led the Pioneers with a school-record time of 23:54 in the 6K race to place fifth individually. She trimmed off 2:19 from her time in the same race last year at Waynesburg.
Freshman Ashley Czerniewski-Hagan, from Baldwin, Pa., was the next Point Park runner to finish, and her time of 25:21 was good for 10th place. Sophomore Marisa Buchheit came in 11th at 25:50, and junior Christina Wisniewski was 14th at 26:23.
Lindsey Palmer was the next Point Park finisher at 27:51 followed by Keri Rouse (28:22), Bryn McClay (29:42), Corrine Jasmin (32:05) and Becky Lessner (34:24).
Point Park competes at the St. Vincent Invitational next Saturday, Sept. 21. Follow the Pioneers on Twitter @PointParkSports