Point Park women's cross country has solid finish on sloppy day at St. Vincent
Sept. 21, 2013 at 8:30 p.m. ET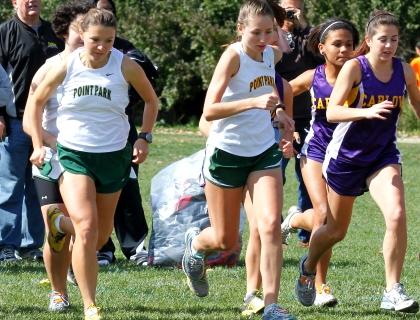 Hana Jiraskova and Christina Wisniewski are a couple of the Pioneers' top runners. Photo by Evan Skowvron.
LATROBE, Pa. -- The Point Park University women's cross country team had another solid finish of fourth place on a sloppy, rainy day at the St. Vincent Invitational 5K in Latrobe on Saturday (Sept. 21).
With a steady rain during the women's race to begin the day, Hana Jiraskova led the Pioneers with an eighth-place individual finish with a time of 20:19. The junior from the Czech Republic placed in the top 10 for the second time in as many meets this year.
With its fourth-place finish of 10 teams, Point Park placed behind only Oberlin, which ran away with the team victory with four of the top-10 individual placements, NCAA Division I the University of Pittsburgh and host St. Vincent.
Pittsburgh's Rachel Brown won the individual title by a wide margin at 18:53. The only runners to finish ahead of Point Park's Jiraskova were two from Pitt, four from team winner Oberlin and St. Vincent's top runner, Genie Fratto.
Freshman Ashley Czerniewski-Hagan, from Baldwin High School, was the next finisher for Point Park with a time of 22:15, good for 32nd place. Marissa Buccheit was not far behind at 22:22 in 34th place. Christina Wisniewski (23:12) and Lindsey Palmer (23:53) put Point Park's top five finishers all under 24 minutes.
Point Park's next meet is Sept. 28 at Chatham for a 6K. Follow the Pioneers on Twitter @PointParkSports