Point Park women's cross country wins Pitt-Greensburg team title
Oct. 5, 2013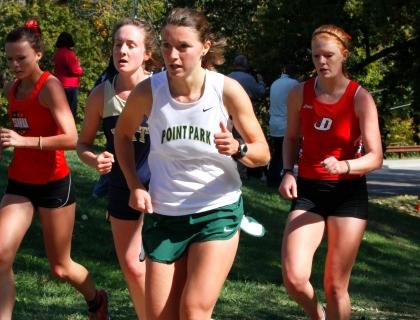 Hana Jiraskova was first place individual to lead Point Park to the team title. Photo by Evan Skowvron.
GREENSBURG, Pa. -- The Point Park University women's cross country team won the team title at the Pitt-Greensburg Invitational on Saturday with four runners in the top eight finishers.
Point Park took the team championship with 25 points followed by Pitt-Johnstown with 40 and Bethany with 90.
Junior Hana Jiraskova, from the Czech Republic, was the individual champion with a time of 21 minutes, 11 seconds. The course was 3.3 miles in length, which was slightly longer than a 5K.
Point Park had several other high finishers including sophomore Marissa Buchheit in third with a time of 22:00. Freshman Ashley Czerniewski-Hagan was fourth at 22:19. Junior Katie Johnston gave the Pioneers four runners in the Top 10 as her time of 23:18 was good for eighth.
Christina Wisniewski had a strong showing with a time of 24:03 in 16th place, as did Lindsey Palmer in 19th at 25:14. Bryn McClay was the seventh finisher for Point Park in 32nd place at 26:29.
Point Park's next competition is Oct. 12 at the Carnegie Mellon Invitational in Schenley Park. The race starts at 10 a.m.
Follow the Pioneers on Twitter @PointParkSports and Facebook.com/PointParkAthletics