Point Park takes 6th at CMU Meet, Wilkins & Guarnaccia break school record

Oct. 11, 2014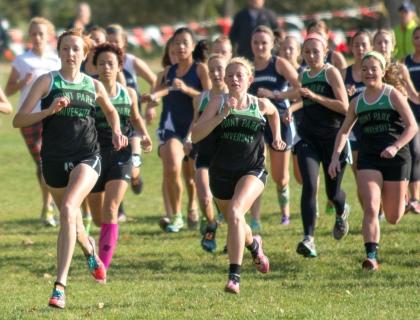 Kelsey Wilkins (left) and Katie Guarnaccia (center) lead the PPU runners at the CMU Meet. Photo by Chris Squier.
PITTSBURGH -- Sophomore Kelsey Wilkins and freshman Katie Guarnaccia both broke the school's 5K record to lead the Point Park University women's cross country team to sixth place of 20 teams at the Carnegie Mellon Invitational on Saturday in Schenley Park.
The Pioneers got another high finish in one of the tougher competitions they will face this year. Finishing ahead of Point Park were team champion Cortland State of NCAA Division III, Pitt and Cleveland State of NCAA Division I, Seton Hill of NCAA Division II and host team Carnegie Mellon.
Wilkins, from Central Valley High School, came in 17th place of 193 runners with a school-record time of 19:31 in the 5K-race. The previous record time of 19:51 set by teammate Hanka Jiraskova at the CMU Meet in 2013 was also bested on Saturday by Guarnaccia, a North Allegheny High School product who finished 33rd with a time of 19:47.
Jiraskova was the third Point Park finisher at 20:26, good for 52nd place. Ashley Czerniewski-Hagan (20:37) and Emily Maxwell (21:34) were 55th and 95th, respectively, as the top five runners for the Pioneers had a 2:03 split from one through five.
Christina Wisniewski (22:31) and McKenzie Wilson (23:44) were the next finishers for the Pioneers giving them seven runners finishing within 4:13 of each other.
Cortland State was the team champion with 59 points, which gave it a narrow win over Pitt and Seton Hill with 60 points each. The top four teams were separated by just 18 points as host CMU was fourth with 77.
Cleveland State took fifth with 124 points, and Point Park was the only other team under 200 with 183. The Pioneers finished in front of the CMU Alumni and NCAA Division II schools IUP and Davis & Elkins in seventh, eighth and ninth.
Point Park's next competition is Oct. 17 at the Wilmington (Ohio) Invitational. Follow the Pioneers on Twitter @PointParkSports #PPUXC