Point Park places 9th at Carnegie Mellon Invitational in Schenley Park
Oct. 13, 2013 at 9:30 a.m. ET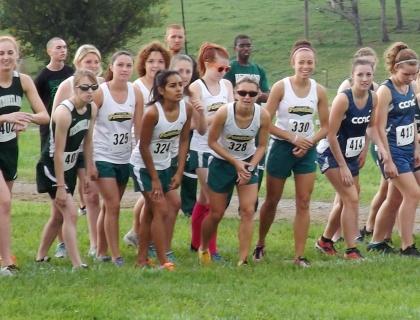 Pictured: The Pioneers get ready for the start of the Pitt-Greensburg Meet Oct. 5. Photo courtesy Karen Buchheit.
PITTSBURGH -- The Point Park University women's cross country team placed ninth of 19 teams at the Carnegie Mellon Invitational held Saturday (Oct. 12) at Schenley Park.
In what was a very challenging field of teams at the meet, Point Park's ninth-place finish had it coming in behind five NCAA Division II schools, NCAA Division I Pittsburgh and host Carnegie Mellon of NCAA Division III. Seton Hill and IUP tied for first with 36 points each.
Point Park junior Hana Jiraskova was near the front in the strong field of runners and finished 23rd of 193 runners. She posted a time of 19:51 to crack 20 minutes in a 5K for the first time this year.
The Pioneers had their best individual times across the board for 5Ks this season with freshman Ashley Czerniewski-Hagan (20:58), junior Katie Johnston (21:25), junior Christina Wisniewski (22:17) and junior Lindsey Palmer (22:48) all coming in under 23 minutes.
Senior Keri Rouse continued her work back into the lineup with a time of 23:30, and Bryn McClay posted a time of 24:48. Becky Lessner finished at 26:08. The Point Park lineup was without one of its top runners, Marissa Buchheit, or else it could have moved up a couple of placements in the team standings.
After a week off, the Pioneers are back in action Oct. 26 at the Carlow Meet. That is the final regular season event before the KIAC Meet Nov. 9 at Midway (Ky.).