Point Park women's runners have record-setting day at Lock Haven, place 9th
Oct. 25, 2014 a 10:30 p.m. ET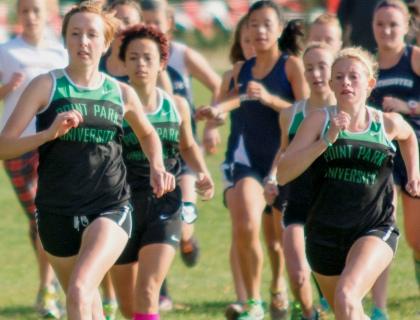 Kelsey Wilkins (left) and Katie Guarnaccia (right) both broke the Point Park women's 6K record on Saturday. Photo by Chris Squier.
LOCK HAVEN, Pa. -- It was a record-setting day for the Point Park University women's cross country team at the Go-Fast River Run hosted by Lock Haven University on Saturday.
Kelsey Wilkins and Katie Guarnaccia both beat the previous Point Park women's 6K record, and the Pioneers registered five of the 10 fastest 6K times in program history, all in the span of one race.
Wilkins, from Central Valley High School, raced to a time of 23:01 to place 13th of 191 runners and establish a new Pioneers record for the women's 6K. She beat the mark of teammate Katie Guarnaccia, who had a time of 23:23 in the previous race at Lock Haven  this year on Sept. 27.
But on Saturday, Guarnaccia too beat her previous mark and placed 19th with a time of 23:17 to give the Pioneers two runners under the previous 6K standard to start the day.
Also running their way onto the 6K Top 10 leaderboard in school history were Ashley Czerniewski-Hagan with a career-best 6K of 24:36, Hanka Jiraskova with a time of 24:43 and Christina Wisniewski at 25:35. Also competing for Point Park was Alexis Sherman at 29:31.
The Pioneers placed 9th of 19 teams in the team standings. The Pioneers were first school in the standings not from NCAA Division II. Saturday was the last meet before the Pioneers host the KIAC Championship Meet Nov. 8 in Schenley Park, which will be a national qualifier for the NAIA meet.
Follow the Pioneers on Twitter @PointParkSports #PPUXC