Jiraskova, Dill qualify for NAIA Meet, Point Park Women take 4th of 9 at KIAC Meet
Nov. 3, 2012 at 11:40 p.m. ET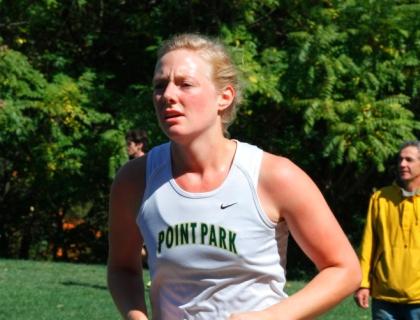 Point Park senior Lindsay Dill placed 3rd at the KIAC Meet to qualify for the NAIA Meet. Photo by Evan Skowvron.
RICHMOND, Ind. -- Point Park University's Hana Jiraskova and Lindsay Dill qualified for the NAIA National Championship Meet by finishing finished second and third, respectively, at the Kentucky Intercollegiate Athletic Conference Women's Cross Country Meet on Saturday at IU East.
Jiraskova and Dill, Point Park's top two runners all year, led the Pioneers to 4th place of 9 teams. Both runners earned all-conference honors for the first time and are also headed to nationals for the first time in their careers. They are the first Point Park women's cross country runners to make it to NAIAs since the program was established in 2000.
Jiraskova, a sophomore from the Czech Republic, placed second individually with a time of 19:57 in the 5K race. She finished seven seconds behind KIAC champion Kim Miller of Asbury (Ky.) (19:50). Dill finished five seconds behind Jiraskova for third place at 20:02. The Point Park duo qualified for nationals based on being in the top five individuals not on the conference championship team.
Jiraskova transferred to Point Park this year from NCAA Division I Maryland Eastern Shore. Dill is a four-year member of the team and a team captain.
Brescia (Ky.) won the team championship with 53 points for a two-point win over Asbury (Ky.) at 55. Berea (Ky.) had 68 points for third place followed by Point Park in fourth with 77. Brescia will represent the conference at the NAIA Meet Nov. 17 in Vancouver, Wash., where Jiraskova and Dill will compete as individuals.
The cut for making the top five individuals not on team champion Brescia ended up being 20:22, or 20 seconds after Dill finished. Point Park's Katie Johnston finished 19th at 21:19, and Marissa Buchheit placed 23rd with a time of 21:56. Christina Wisniewski rounded out the top five for Point park at 22:41 for fifth place.
Follow the Pioneers on Tiwtter @PointParkSports and Facebook.com/PointParkAthletics