Point Park women take 2nd at KIAC Meet, qualify three for NAIA national meet

Nov. 8, 2014 at 11:30 p.m. ET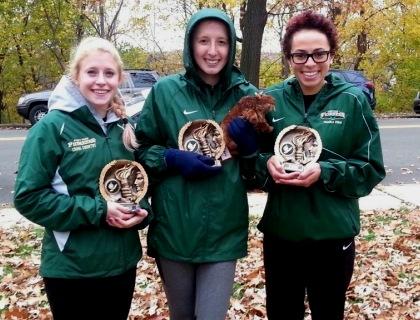 Point Park NAIA national individual qualifiers (L to R): Katie Guarnaccia, Kelsey Wilkins and Ashley Czerniewski-Hagan
#KIACXC RESULTS: WOMEN'S TEAM  / WOMEN'S INDIVIDUAL
PITTSBURGH -- The Point Park University women's cross country team placed second of eight teams in the Women's 5,000 meters at the KIAC Cross Country Championships on Saturday at Schenley Park to register their highest team finish ever at a conference meet.
The Pioneers, although they fell short of the team title and the automatic team qualification to the NAIA National Championship, had three runners qualify for the national meet individually. As a team, Point Park bested last year's third-place finish at the KIAC Meet, which had been the best conference finisher to date.
Point Park freshman Katie Guarnaccia, from North Allegheny High School, crossed the finished line second overall in the women's 5K, just a fraction of a second ahead of teammate Kelsey Wilkins, a sophomore from Central Valley High School. Both Guarnaccia and Wilkins carded a time of 19:24 to jointly establish a Point Park women's 5K record although Guarnaccia officially placed second and Wilkins third.
Sophomore Ashley Czerniewski-Hagan, a Baldwin High School product, placed sixth with a personal-best time of 20:04 to earn the KIAC's final individual qualification spot. She also gave the Pioneers three of the top six finishers overall.
Guarnaccia, Wilkins and Czerniewski-Hagan will compete at the NAIA National Championship Nov. 22 at Rim Rock Farms in Lawrence, Kan., after being among the top four individual finishers not from championship team Asbury. With only four individual spots up for grabs, the Pioneers took three of them along with Courtney Naas of Brescia, who placed fourth at 19:50.
Point Park will be represented by individual qualifiers at the NAIA National Championship for the third year in a row, although all three of this year's qualifiers will be doing so for the first time in their careers. Point Park's Hanka Jiraskova, a senior from Czech Republic, just missed qualifying for an amazing third year in a row and placed 17th on Saturday at 20:44.
Asbury (Ky.) University edged Point Park for the team title and will send its entire team to the NAIA national meet. The Eagles had 45 points compared to 52 for Point Park. Rio Grande was third at 64 followed by Brescia at 83.
Katy Falkenberg paced Asbury to the team championship by winning the team title. The sophomore Falkenberg made a rally in the last mile to set an Asbury 5K record at 19:13 and place first. Asbury also had the fifth finisher, senior Justine Vonderheide (20:15), and the ninth finisher, Devon Zweifel (20:15).
Wilkins and Guarnaccia led for the first two miles, and it was Wilkins who opened up a gap over her teammate in the early going. Czerniewski-Hagan earned a spot on the All-KIAC First Team along with Wilkins and Guarnaccia by running her best race of the season. The All-KIAC First Team consists of the top seven finishers while the All-KIAC Second Team is for finishers eight through 14.
Point Park's Christina Wisniewski as the fifth Point Park runner to cross the finish line, and she did so with a personal-best showing of 21:20. That gave the Pioneers four of their top five runners with PR times -- the top two setting a school record -- on the day.
Point Park's top seven performers were rounded out by senior Katie Johnston in 28th at 21:42 and sophomore Emily Maxwell in 29 at 21:45.
Other competitors for Point Park were McKenzie Wilson (23:58), Bryn McClay (24:27), Alexis Sherman (24:37) and Lindsey Palmer (25:43).
The KIAC Cross Country Championship was broadcast live by the Point Park Sports Network on Team1Sports.com. On-Demand video replay of the meet is available here: Point Park Sports Network