Point Park signs Madison Przicina for Cross Country and Track & Field
June 24, 2015 at 2:00 p.m. ET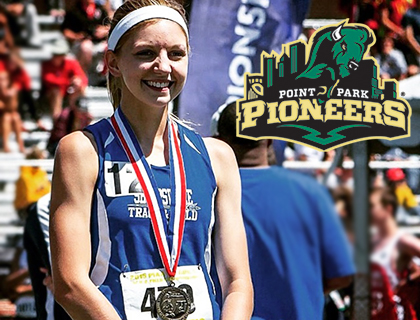 PITTSBURGH -- Point Park University women's cross country and track & field has signed Sharpsville Area High School standout Madison Przicina, who will be a freshman in the fall. She will run in both sports for head coach Kelly Parsley.
Przicina is a versatile athlete with 16 varsity letters while at Sharpsville. She was a state qualifier multiple times in both cross country and track and field, and she is the District 10 record holder in the 400 meters.
Highlights from her senior season in track and field include placing first in District 10 in the 400 meters with a record time of 57.62 seconds and placing seventh at the PIAA state meet in the 800 meters with a personal-best time of 2:17.27. She qualified for states in both the 400 and 800 meters.
In cross country, Przicina qualified for the PIAA state meet in her junior and senior seasons. Her personal-record time of 20:05 in the 5K came as a senior. She finished sixth in District 10 in 2014 and 10th in 2013.
"Madison Przicina is the most athletic recruit I have had the pleasure of signing in all my years as a head coach," said coach Parsley. "She is the total package. Madison can sprint and also run distance. She will provide depth in relays, sprints and our distance squads.  Madison is graduating with 16 varsity letters -- four Basketball, four Volleyball (Regional Player of the year), four Cross Country and four track & field. Here at Point Park, she will focus on running. I am excited to see where that decisions takes her. I see may trips to nationals in her future."