Point Park Cross Country and Track & Field signs Taylor Celich of Montour HS
June 4, 2015 at 12:00 p.m. ET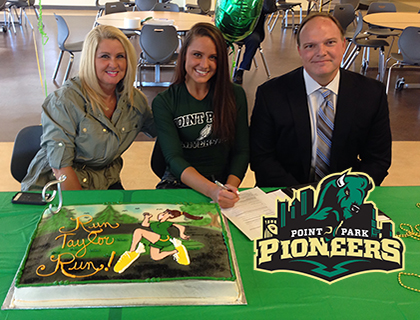 PITTSBURGH -- Point Park University women's cross country and track and field has signed Taylor Celich from Montour High School. She will be a freshman competing in both sports in 2015-16 for Pioneers head coach Kelly Parsley.
"Taylor is an athlete," said coach Parsley. "She can run anything from the 100 meters to cross country. Taylor is a state qualifier in cross country and was a regional finalist in the 4x100 meter relay and the 400 meter run. She will make an immediate impact to our cross country and track and field programs."
Celich qualified for the PIAA state cross country meet as a senior in the fall of 2014. That same season, she set a personal-best time of 21:23 (5K) to place 17th at the WPIAL championships.
In track and field, she had a personal-best time of 1:01.18 in the 400-meter dash at the WPIAL meet. Her best time in the 800 meters came in 2014 at 2:35.66.
Follow the Pioneers on Twitter & Instagram @PointParkSports hashtag #PPUXC #PPUTF