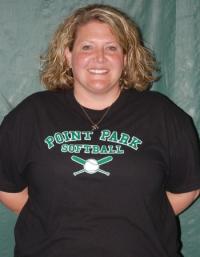 MICHELLE COULTAS
Softball Head Coach
Primary Women's Administrator
mcoultas@pointpark.edu
(412) 392-8144
11th year at Point Park
Alma mater: Point Park '97
Record at Point Park: 227-175 (10 years)
AMC Coach of the Year in 2011
Michelle Coultas is in her 11th year as head softball coach at her alma mater, Point Park University. Point Park's 31 wins in 2013 were the most ever under Coultas.
During her time at Point Park, Coultas has led the Pioneers to seven 20-win seasons and seven trips to the Conference Tournament in 10 years. Point Park reached the AMC Tournament Finals twice in 2011 and 2012 and the KIAC Tournament Finals in 2013, 2014, 2015 and 2016.
Since taking over the program prior to the 2007 season, Coultas has established the program as a consistent winner that competes for conference playoffs and championships year in and year out.
The Pioneers were 31-13 in 2013 to set a new high for victories under Coultas.
Point Park reached the KIAC Tournament in 2016.
Coultas' first two years at Point Park (2007 & 2008) had the Pioneers go 12-23 in a rebuilding year of 2007 and then rebounding for a 17-20 record and a trip to the AMC playoffs in 2008.
In addition to being the head softball coach, Coultas was also Point Park's Assistant Director of Athletics, a role that she began in the fall of 2008. Beginning spring 2015, her title changed to Primary Women's Administrator.
Her primary duties as primary women's administrator include overseeing the academic progress of Point Park's student-athletes and assisting with all aspects of the athletic department.
Her duties have her overseeing the adminstration of the Point Park Rho Chapter of the Chi Alpha Sigma National College Athlete Honor Society. That academic recognition along with others such as the NAIA Scholar-Athlete and NAIA Scholar Team awards are calculated by Coultas.
Coultas' duties also have her administering Point Park's participation in the NAIA Champions of Character initiative.
Coultas played softball at Point Park from 1993-1997, and she racked up first team all-conference accolades every year. She was Co-Freshman of the Year in 1993.
As a standout shortstop, Coultas played every inning of every game during in her career with the Pioneers.  She suited up for the women's basketball team at the conclusion of her softball playing days.
Following her graduation with a double degree in social sciences and secondary education, Coultas coached at Bethel Park High School from 1998-2000, where she headed the junior varsity program.  She also had a brief stint at Fort Couch Middle School in Upper St. Clair.
"I want to build this program and put it on the map," Coultas said.  "I hope to give the ladies a chance to further their athletic and career goals.
"I want to give back to the school everything that it is has given me."
COULTAS' COACHING RESUME
YEAR

OVERALL

CONFERENCE

HIGHLIGHTS

2016
23-19
14-4
KIAC Tournament
2015
29-16
21-7
KIAC Tournament
2014
26-17
19-8
KIAC Tournament Semi-finals
2013
31-13
22-6
KIAC Tournament Semi-finals
2012
25-24
11-3
AMC Tournament Finalist
2011
23-18
10-4
AMC Coach of the Year, AMC Regular Season Champions,
AMC Tournament Finals
2010
19-11
8-7
 
2009
22-14
10-10
 
2008
17-20
8-12
AMC Tournament
2007
12-23
3-7
 
TOTAL 
227-175
126-68