Point Park University Softball -- 2011 Season Preview
March 4, 2011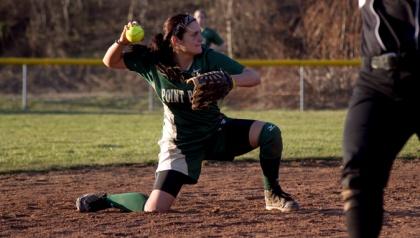 Pictured: Senior Lindsey Pesanka is back for her fourth year as starter. Photo by Murphy Moschetta.
Pioneers looking to break through in the AMC after sniffing playoffs last two years
SEASON PROSPECTUS (pdf) , 2011 SCHEDULE, REBEL SPRING GAMES INFO
The Point Park University softball team has been well over the .500 mark in each of the last two years, but the Pioneers came up one game short of qualifying for the American Mideast Conference playoffs in both of those seasons. Point Park will look to break through that barrier in the 2011 campaign. The Pioneers have plenty of returning talent as well as some key additions that give them reason to believe they will take the next step for a program that has been significantly elevated the last few years under now fifth-year coach Michelle Coultas.
Point Park was 19-11 last season and missed out on the postseason by one game with an 8-7 AMC record. Similarly, the Pioneers were 22-14 in 2009, but their 10-10 conference mark had them missing the playoffs by a single game. The 22 wins that year were the most for the program in nearly a decade. In Coutlas' first two seasons, the Pioneers were a combined 25-35 as the former Point Park standout began to put the program on solid footing. After making significant gains the last two years, the Pioneers are poised to elevate the program even further.
Among the return talent are a couple of sophomores who took home some AMC awards last year. Kelsey Robertson was named the AMC Pitcher of the Year, and classmate Amanda Ardinger was the AMC Freshman of the Year. Robertson, from Frostburg, Md., was 6-1 with a 1.53 ERA in 55 IP. Ardinger, from Moon Twp., Pa., was second in the NAIA with a batting average of .519.
Sophomore third baseman Danielle Dorunda, from Warren, Pa., was second on the team in hitting at .382 and led the team with five homers and 24 RBIs. Senior Nicole Kerestine, an infielder from Brownsville, Pa., hit .395 before missing the final 13 games due to injury. Senior infielder Lindsey Pesanka, from Baldwin, Pa., is back for her fourth year as a starter after having a team-high 25 runs.
Sara Guffey, a sophomore catcher from Washington, Pa., hit .308 last year. Sophomore Olivia Sorce, from Penn Hills, Pa., started 27 games on the infield last year while hitting .233. Junior center fielder Zoe Hughes, from Butler, Pa., has started the last two years, but she suffered a kneed injury during the volleyball season that will keep her out. Junior utility player Julie Campbell found a starting role midway through last year and came on strong late in the season.
The Pioneers have every one of their pitchers returning to this year's team. Kristen Zelenka, a senior from Washington, Pa., has been the No.1 starter the last two years and was 7-7 with a 2.45 ERA in 2010. Other arms are juniors Abbie Heigel, from DuBois, Pa., and Marlena Carnicella, from Patton, Pa. Freshman Lindsey Inzana, from Chesapeake, Va., will join the rotation this year.
A large recruiting class has added plenty of talent to the roster. The Pioneers have several players in the group that figure to make an impact right away. Most notable in the group are freshmen Teresa Davis, an All-Ohio catcher/infielder from Vermilion, Ohio, and Ashley Morran, an infielder/outfielder and a former all-state player at Trinity High School in Washington, Pa.