Pioneers prepare for upcoming 2012 softball season with fall workouts
By Kelly Reed, Point Park athletic communications intern -- Dec. 22, 2011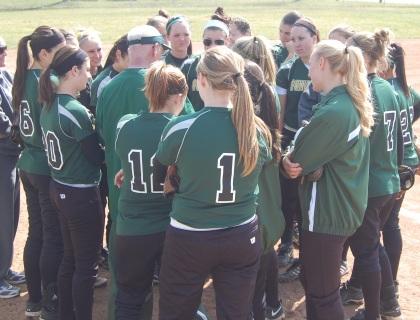 The Point Park Pioneers prepped for 2012 season with fall workouts. File photo.
PITTSBURGH -- As the winter gets colder, Point Park softball continues to get warmer.
The Pioneers have been warming up their arms and hitting the Student Center since early in the fall. With its season months away, Point Park was focused this fall on weight lifting, getting stronger, and working out hard to get in shape. Senior Julie Campell feels hitting in the cages is going well.
"We look good as a team," she said, "The fall was a really good chance to see what the new freshmen can do and evaluate what we have as a team."
The Pioneers are coming off a season with a record of 23-18 overall and 10-4 in their American Mideast Conference. Point Park reached the AMC Tournament finals but came up short in the conference championship game.
When talking about this upcoming season, head coach Michelle Coultas says, "I don't want to be too optimistic, but our road to nationals is very doable. We have a pretty good chance, especially with the girls coming back from last year."
In addition to standout returners such as team captain Zoe Hughes and Amanda Ardinger as well as team leaders Campell and Larissa Banks, the Pioneers are welcoming in a handful of freshmen. With the loss of pitcher Kristen Zelenka to graduation, freshman Kate Reese from Penn Cambria, is an example of a freshman who will need to help fill the void. Junior pitcher Kelsey Robertson is the top returning arm.
Not only do the Pioneers have a challenging schedule with the likes of local rival Carlow, they must also overcome the absence of their head coach in the preseason.  Coultas will be taking a short maternity leave near the start of the season, but the plan is that she won't miss any games.
"It will be a hard transition," said Coultas "I've been there for every play for the past five years. It will be hard to make decisions not being there."
In Coultas' absence, Point Park will have to rely heavily on its assistant coaches including first-year assistant and former player Lindsey Pesanka joining returning assistants Rob Ferrari and Karina Graziani.
The Pioneers open their season at the Rebel Games in Kissimmee, Fla., March 1-11.
Follow us on Twitter @PointParkSports (www.twitter.com/PointParkSports) and www.Facebook.com/PointParkAthletics