Point Park U. softball signs Hannah Harley of Indiana, Pa., for 2013 season
Jan. 27, 2012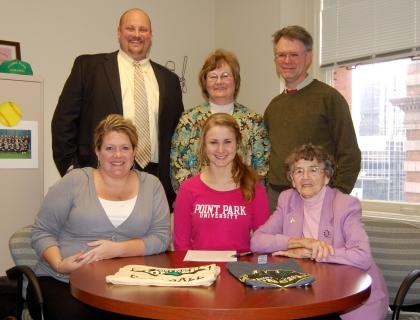 Hannah Harley (center) signs with Point Park softball. Pictured are seated (L to R) Point Park head coach Michelle Coultas, Harley and Harley's grandma Dr. M. Dorcas Clark; and back row (L to R) Charlie Stage, Pittsburgh Pride 18U Stage head coach and Harley's parents, Patrice and Tom Harley.
PITTSBURGH -- Point Park University softball head coach Michelle Coultas has signed her first recruit for the 2013 with the recent commitment of pitcher Hannah Harley of Indiana, Pa. She will be a freshman at Point Park in the fall of 2012.
Harley is a four-year pitcher at Indiana Area High School, where she was named to the All-Indiana Gazette softball team. Harley plays travel ball with Pittsburgh Pride 18U Stage. Another highlight of her experience is pitching for a USA Cup team that played in the Netherlands in 2011.
"We are excited to add Hannah to our program," said Coultas, who is in her sixth year as head coach. "She adds talent and depth to our pitching staff and she can also play other positions such as first base and outfield."
"Point Park was my No. 1 choice both academically and athletically," said Harley, who plans to major in photojournalism. "I'm quite thrillied to be playing for coach Coultas and Point Park."
Harley also competed in tennis at Indiana and reached the second round of the WPIAL doubles tournament last season.