Pioneers open home schedule with doubleheader split vs. Geneva
March 18, 2010
McKEES ROCKS, Pa. – The Point Park University softball team opened its home schedule Thursday by splitting a non-conference doubleheader with Geneva at Lind Field at Fairhaven Park.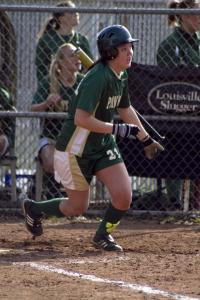 The Pioneers (5-2) won the first game, 5-1, as freshman third baseman Danielle Dorunda (Warren, Pa./Warren) provided the winning runs with a grand slam home run in the fifth inning.
Pictured left, Dorunda takes a look at her decisive grand slam in game one.
Photo by Murphy Moschetta.
Geneva (4-8) snapped a five-game losing streak by winning the second game, 10-8, in eight innings. The Golden Tornadoes led 5-2 only to have Point Park score six runs in the fifth to take an 8-5 lead.
Geneva scored three runs with two outs in the sixth to forge an 8-8 tie, and after a scoreless seventh, the Golden Tornadoes pushed across the go-ahead runs in the top of the eighth.
Dorunda (pictured) was 3 for 6 with five RBIs on the day. The freshman third baseman had two hits as part of Point Park's 14-hit attack in game two.
Before Dorunda's grand slam, the first game was a pitcher's duel with Point Park clinging to a 1-0 lead entering the bottom of the fifth.
With one out in the Point Park fifth, Christie Schroeder (Baldwin/Baldwin) doubled and Courtney Cain (Homestead/Steel Valley) singled. Geneva intentionally walked Amanda Ardinger (Moon Twp./Moon Area) to load the bases for Dorunda, who followed with her blast to deep right-center field.
Schroeder and Cain each had two hits in the opener. Cain added three hits in the nightcap and was 5 for 8 on the day. Schroeder walked and scored on Cain's RBI double in the first to give Point Park a 1-0 lead in the first game of the day.
Point Park starter Kristen Zelenka (Washington/Trinity) picked up the win in game one after pitching four scoreless innings. The junior right-hander struck out five, walked one and allowed four hits.
Freshman reliever Kelsey Robertson (Frostburg, Md./Mountain Ridge) earned the save by closing out the final three innings. Robertson struck out one and walked one, and Geneva manufactured its only run with a double, a ground out and a sacrifice fly in the sixth.
Geneva's bats came alive early in the second game, and the Golden Tornadoes jumped out to a 5-2 lead on the strength of its two home runs. Julie DiLonardo belted a solo shot in the second, and Adriane Blake smashed a three-run homer an inning later.
Point Park had taken a 2-1 lead when a bases-loaded double by Lindsey Pesanka (Baldwin/Baldwin) brought home two runs in the bottom of the second. Pesanka's shot down the third-base line was barely inside the bag.
Point Park found itself down 5-2 entering the bottom of the fifth. Then, the Pioneers produced six runs on seven hits to stake an 8-5 lead.
After one out, Point Park strung together six straight hits – highlighted by an RBI double by Olivia Sorce (Verona/Penn Hills) and run-scoring singles by Schroeder and Dorunda – to chase Geneva starter Ariel Lilly.
DiLonardo, the game-one starter, came on in relief with the bases loaded. DiLonardo walked in a run, and the next batter, Zoe Hughes (Butler/Knoch), drove in two runs with a single. On the play, a runner was cut down at third for the final out, but Point Park was ahead, 8-5.
Robertson was working her second inning of relief in the top of the sixth when Geneva scored three runs after two outs. With runners at second and third, Leah Prisuta ripped an RBI single and Martha Adams followed with a two-run double to tie the score at 8-8.
Prisuta's double followed a disputed call in which Point Park contended that Sam Michetti was retired diving back to third as part of a double-steal play with runners at first and third.
Point Park mounted a threat in the seventh when Cain led off with a single and stole second. But Cain was retired on a runner's interference when the next batter, Larissa Banks (McKees Rocks/Sto-Rox), grounded to short.
Following international tiebreaking rules, a runner was placed at second to start the top of the eighth. Michetti laid down a sacrifice bunt to put the go-ahead run at third. A fielder's choice and a groundout to the pitcher set up runners and second and third with two outs for Blake.
Blake then delivered a two-run single to bring home the go-ahead runs. Blake, who had five RBIs in the game, was retired trying to advance to second on the play.
Pinch runner Maeve Gallagher (Pittsburgh/Perry) started the eighth inning at second base, and she was sacrificed to third by Nicole Kerestine (Brownsville/Brownsville). But then two straight pop ups to the catcher ended the game.
DiLonardo ended up getting the win with one strikeout and one walk in 3.2 innings. After scoring eight runs off of Geneva starter Lilly, Point Park did not get any runs off of DiLonardo.
Robertson was saddled with the loss after going four innings. Game-two starter Abbie Heigel (DuBois/DuBois Central Catholic) lasted two innings while Marlena Carnicella (Patton/Cambria Heights) pitched the fourth inning.
All of Point Park's seven games have been against NCAA Division III competition. The Pioneers will continue playing teams from the Division III ranks this weekend with doubleheaders at La Roche (Saturday, 1 p.m.) and at Pitt-Greensburg (Sunday, 1 p.m.).
After the loss in game two, Point Park is now 1-1 in extra-inning games.