Point Park sweeps two road games from previously unbeaten La Roche
March 20, 2010
NORTH HILLS, Pa. -- The Point Park University softball team improved to 7-2 by sweeping two games at previously unbeatean La Roche Saturday afternoon.
Click the 'BOX SCORE' links for complete stats and play-by-plays of both games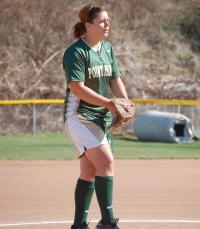 The Pioneers (7-2) won the first game first game, 8-0, as junior right-hander Kristen Zelenka (pictured) tossed a complete-game shutout. Zelenka (Washington/Trinity) struck out 10, walked two and gave up five hits in seven innings to improve to 3-1 on the year.
Point Park topped La Roche (7-2) by a score of 8-4 in the second game. Winning pitcher Abbie Heigel, a sophomore, pitched all seven innings and gave up only one earned run. Heigel (DuBois/DuBois Central Catholic) struck out five, walked none and scattered eight hits to get the win.
In the first game, Amanda Ardinger (Moon Twp./Moon Area) was 3 for 4 with three RBIs while Sara Guffey (Washington/Trinity) had two hits and drove in two runs. Zoe Hughes (Butler/Knoch) and Christie Schroeder (Baldwin/Baldwin) added two hits each. The Pioneers had 13 hits in all.
In the second game, Guffey, Danielle Dorunda (Warren/Warren) and Julie Campbell (Baldwin/Baldwin) each had two hits as part of Point Park's eight-hit attack.  
Dorunda had a home run and drove in two runs in the second game while Campbell added two RBIs.  
The Pioneers continue non-conference play at Pitt-Greensburg in a doubleheader Sunday. Game time is 11:30 a.m.