Pitching, defense carry Point Park (9-2) to sweep at Pitt-Greensburg
March 21, 2010
GREENSBURG, Pa. – Point Park University got outstanding pitching and defense Sunday in winning both ends of non-conference softball doubleheader at Pitt-Greensburg.
Point Park (9-2) did not make an error in either game, and three pitchers combined to strike out 25 batters and yield only one run on six hits for the day. The Pioneers won by scores of 10-0 and 3-1.
Pitt-Greensburg (0-2), which was playing its season openers, made four errors in the first game. Point Park took advantage by scoring seven unearned runs, and three of its four runs in the top of the seventh were unearned.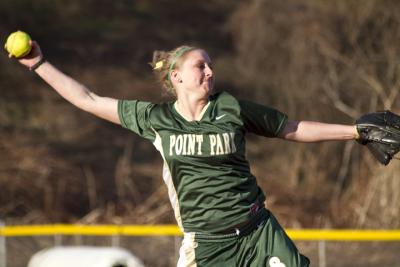 Freshmen pitcher Kelsey Robertson (Frostburg, Md./Mountain Ridge) tossed a complete-game shutout in the opener to get the victory. Robertson (pictured above) struck out a career-high 12 batters, walked none and all four of the hits she gave up were singles.
Pitt-Greensburg did not move a runner past first base until the seventh inning, and Robertson (2-1) closed out the game by recording a strikeout to strand runners at first and second.
In the second game, sophomore starter Marlena Carnicella (Patton/Cambria Heights) allowed just one run on two hits in five innings of work to get the victory. Carnicella (2-0) struck out 10 and walked none.
Sophomore Abbie Heigel (DuBois/DuBois Central Catholic) picked up her second save of the year by pitching the last two innings. Heigel retired all six batters she faced with three strikeouts.
All of Point Park's games have been versus NCAA Division III competition, and the Pioneers will get a good test in their next games. Point Park welcomes Division II Gannon (11-6) on Wednesday for a non-conference doubleheader that was postponed March 13.
Although Pitt-Greensburg made four errors in the first game Sunday to help Point Park's cause, the Pioneers had plenty of offense with 14 hits in all.
Nicole Kerestine (Brownsville/Brownsville) went 3 for 4 in game one and was 4 for 5 on the day to boost her team-leading batting average to .435.  Contributing two hits each were Courtney Cain (Homestead/Steel Valley), Amanda Ardinger (Moon Twp./Moon Area), Danielle Dorunda (Warren/Warren) and Sara Guffey (Washington/Trinity).
Point Park scored two unearned runs in the second to take an early lead. The next inning, a solo home run by Christie Schroeder (Baldwin/Baldwin) started a four-run third.  Later in the fourth, Dorunda got her team-best 10th RBI on a fielder's choice, and an outfield error led to two more unearned runs.
Leading 6-0, the Pioneers tacked on four runs in the seventh against reliever Emily Dempsey. The inning was highlighted by an RBI single from Lindsey Pesanka (Baldwin/Baldwin), and a two-run base hit by Cain. Pesanka drove in two runs in the game.
Pitt-Greensburg starter Lindsay Harkins (0-1) lasted five innings, struck out three, walked three and gave up nine hits.
In the second game, Pitt-Greensburg could only manage one run off of Carnicella, and they had to play small ball to do it. Trailing, 2-0 in the bottom of the third, a single and a wild pitch following a strikeout set up runners at first and third. Then, a sacrifice bunt by Harkins brought home the only run for the Bobcats.
Carnicella retired the first seven batters of the game and faced only three over the minimum through five innings.
The Pioneers totaled seven hits off of four pitchers in the second game. Point Park got on the board in the first inning when Larissa Banks (McKees Rocks/Sto-Rox) singled an advanced to second on a ground out. The next batter, Guffey, delivered a two-out single to make it 1-0.
In the third, Pesanka tripled and came home to score on a groundout by Banks. The Pioneers added an insurance run in the seventh when Ardinger led off with a ground-rule double and scored on a two-out single by Maeve Gallagher (Pittsburgh/Perry) to make it 3-1.
Freshman pitcher Kelsey Robertson is pictured above in Thursday's home openers versus Geneva.
Photo by Murphy Moschetta.