Point Park's Kristen Zelenka named AMC Softball Pitcher of the Week (March 15-21)
March 24, 2010
PITTSBURGH – Kristen Zelenka, a junior on the Point Park University softball team, has been named the American Mideast Conference Softball Pitcher of the Week for games played March 15-21.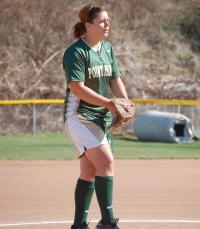 Zelenka, a native of Washington and a graduate of Trinity High School, threw 11 scoreless innings and was 2-0 in two starts last week. In 11 total innings, Zelenka gave up zero runs, struck out 15 and walked three.
Her week was highlighted by a complete-game shutout at La Roche Saturday. In seven innings, Zelenka struck out 10, walked two and scattered five hits to get the victory. She faced only one batter over the minimum.
Zelenka started the week by tossing four scoreless innings and picking up a victory over Geneva. In that game, she struck out five, walked one and turned a 5-0 lead over to the bullpen.
This is the second time in her career that Zelenka has earned the AMC Pitcher of the Week honor. She also got the award from March 16-22 of last year. Zelenka is the second honoree so far this season.
For the year, Zelenka is 3-1 with a 1.22 earned-run average to lead the Pioneers (9-2). In four starts, she has two complete games and one shut out. Zelenka has struck out 27 and walked five in 23 innings of work.
Zelenka is in her second season at Point Park after transferring from Fairmont State last year. Last season she tied for the team lead in wins with an 8-6 record, had an 1.90 ERA and led the Pioneers to a 22-14 overall record.