Point Park completes pre-conference schedule by sweeping Penn State-Beaver
March 27, 2010
McKEES ROCKS, Pa. – The Point Park University softball team scored 20 runs and collected 24 hits in a doubleheader sweep of non-conference Penn State-Beaver Saturday at Lind Field at Fairhaven Park.
The Pioneers completed their pre-conference schedule with an 11-2 record by beating Penn State-Beaver (3-10) by scores of 12-3 and 8-1. The first game ended after five innings due to the mercy rule.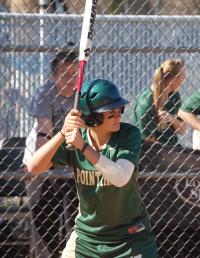 Point Park will begin American Mideast Conference play Sunday by hosting Shawnee State. The start time at Lind Field is 11 a.m., which is two hours earlier than originally scheduled. The Pioneers play 16 AMC games among their final 20 contests.
Penn State-Beaver is a member of the United States Collegiate Athletic Conference (USCAA), and prior to Saturday, each of Point Park's opponents had come from the NCAA Division III level.
PICTURED LEFT: Point Park junior shortstop Lindsey Pesanka was 6 for 7 and reached base all eight times in Saturday's doubleheader. File photo.
Entering conference play Sunday, Point Park has some impressive numbers in all phases of the game. The Pioneers have a team batting average of .349 and a team fielding percentage of .970. Point Park's team earned-run average is 1.53, and opponents are hitting just .204 against them.
Point Park was clinging to a 3-2 lead in the first game before scoring nine runs on eight hits in the bottom of the fourth to go ahead, 12-2.
The Pioneers sent 14 batters to the plate in the nine-run inning. After the lead-off batter was retired, nine consecutive hitters reached base. Big hits in that string included an RBI single from Christie Schroeder (Baldwin/Baldwin), a two-run double by Courtney Cain (Homestead/Steel Valley) and RBI singles from Danielle Dorunda (Warren/Warren) and Sara Guffey (Washington/Trinity).
After two outs, the Pioneers tacked on three more runs thanks to a two-run base hit by Nicole Kerestine (Brownsville/Brownsville) and an RBI single from Lindsey Pesanka (Baldwin/Baldwin).
Point Park had 13 hits in game one with Schroeder and Pesanka leading the way by each going 3 for 3. Schroeder, a senior catcher, drove in two runs while Pesanka reached base all four times.  Cain had two hits and three RBIs while Kerestine had two hits and drove in two runs.
After the offensive explosion in the bottom of the fourth, winning pitcher Kristen Zelenka (Washington/Trinity) closed out the game in the fifth to register her third complete-game. Zelenka (4-1) struck out five, walked three and gave up five hits in five innings.
Point Park had taken a 3-0 lead in the first inning. Pesanka started the inning with a double, and two batters later, Schroeder drove her in with a base hit. Cain followed with an RBI single, and after being sacrifice to third by Amanda Ardinger (Moon Twp./Moon Area), Cain came home on a sacrifice fly from Dorunda.
In game two, Point Park came alive for four runs in the bottom of the sixth to stretch its lead to 8-1. Ardinger, who was 3 for 3 in the game, highlighted the inning with a two-run homer. The previous batter, Cain, had driven in two runs with a two-out double.
Point Park tallied 11 hits and took advantage of four errors in the second game. Penn State-Beaver committed all of its errors in the third, which allowed the Pioneers to take a 2-0 lead without the benefit of a hit.
An inning later, Point Park manufactured two more runs. Maeve Gallagher (Pittsburgh/Perry) led off with a single, and she moved around to third on consecutive sacrifices by Larissa Banks (McKees Rocks/Sto-Rox) and Zoe Hughes (Butler/Knoch).
That set the table for Pesanka's RBI double, and Olivia Sorce (Verona/Penn Hills) capped off the inning with a run-scoring base hit for a 4-1 lead.
Pesanka was 3 for 4 with three runs scored in the nightcap. The junior shortstop reached base eight times in eight trips to the plate on the day.
On the mound, Kelsey Robertson (Frostburg, Md./Mountain Ridge) picked up the win by pitching the first four innings. The freshman right-hander improved to 3-1 by striking out four, walking one and yielding three hits.
Sophomore Abbie Heigel (DuBois/DuBois Central Catholic) earned her third save of the year by pitching three scoreless innings to close out the game. Heigel (2-0, 3 SV) struck out two, walked one and gave up one hit.