Point Park shortstop Lindsey Pesanka named AMC Softball Player of the Week
March 31, 2010
PITTSBURGH – Point Park University shortstop Lindsey Pesanka has been named the American Mideast Conference Softball Player of the Week for games played March 22-28.
Pesanka, a junior from Baldwin, Pa., who has started all three years of her career, had an impressive week to lead the Pioneers (11-3) to a 2-1 record.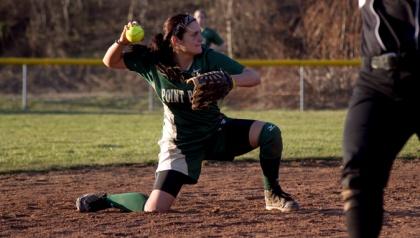 Pesanka batted .700 (7 for 10) with three doubles and scored six runs on the week. She had a pair of three-hit games and registered a slugging percentage of 1.000. Defensively, she played errorless ball at shortstop while handling 11 chances.
She had an outstanding day versus Penn State-Beaver last Saturday when she went 6 for 7 with five runs scored in a doubleheader. On the day, she reached base all eight times she went to the plate to lead Point Park to a pair of victories.
Versus Shawnee State on Sunday, Pesanka singled and scored Point Park's only run in a 5-1 loss. Pesanka was 1 for 3 at the plate, and in the field she had five assists from her shortstop position.
Pesanka has started all 14 games at shortstop and batted first in the order. She leads the Pioneers with 17 hits and three stolen bases. Pesanka is batting .362 with eight RBIs and an on-base percentage of .444. Defensively, Pesanka has made only one error in 50 chances for a fielding percentage of .980.
This is the second consecutive week that a Point Park player has earned a weekly honor from the AMC. Junior pitcher Kristen Zelenka (Washington/Trinity) was the AMC Pitcher of the Week for games played March 15-21.
The Pioneers resume AMC play Friday by hosting Mt. Vernon Nazarene for a doubleheader. The first pitch at Lind Field at Fairhaven Park is set for 3 p.m.